Sagetech Avionics, a leading designer and manufacturer of miniature transponders for unmanned aerial vehicles (UAVs) and drones, has partnered with Unmanned Systems Technology ("UST") to demonstrate their expertise in this field. The 'Gold' profile highlights how their lightweight, low-footprint ADS-B and transponder solutions can provide safe and efficient operations for UAVs flying with other manned and unmanned aircraft in both civilian and military airspace worldwide.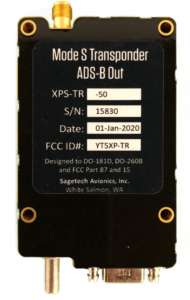 The XP family, featuring the world's smallest certified transponder, delivers Mode C, Mode S and ADS-B functionality for SWaP-critical UAVs and drones. Designed for Federal Aviation Administration Technical Standard Order (FAA TSO) compliance, XP transponders feature an integrated pressure sensor and altitude encoder and are calibrated up to 85,000 feet.
Integration with the host UAV is made simple due to the transponders' form factor, and plug-and-play compatibility is supported with a wide variety of leading UAV autopilots. XP transponders support direct software control from a Multi-Function Display (MFD) or Flight Control System (FCS), further reducing the system footprint.
The XP family of drone transponders features four variants:
XPC-TR Mode C Transponder – a highly reliable, low-power compact broadcasting solution for FAA Mode A and Mode C requirements
XPC-TR Certified Transponder – a military version of the Mode C Transponder, DoD AIMS Mark XA IFF certified and designed for guaranteed NATO interoperability
XPS-TR Mode S Transponder with ADS-B Out – incorporates ADS-B Out broadcast technology, enhancing UAV flight safety by adding a continuous means for air traffic control and aircraft equipped with ACAS to determine the UAV's location
XPG-TR Mode S Transponder with ADS-B Out and GPS – includes an accurate integrated GPS position receiver, enabling a standalone unit to broadcast the aircraft's GPS location in Mode S and ADS-B communications
The MX family delivers full-featured FAA- and DoD-certified transponder solutions for safe UAV operations in national and military airspace worldwide. MX transponders feature an integrated pressure sensor and altitude encoder, saving space and weight.
Each unit utilises top and bottom diversity antennas for full pattern coverage, which is especially critical in Canada and other areas where satellite ADS-B systems are in use. Each antenna connects to its own ADS-B receiver to provide fully reliable traffic sensing.
The MX family of drone transponders features three models:
MXS Mode S Transponder with ADS-B In/Out – full output power solution for worldwide ADS-B compliance
MX12B DoD-Certified Mode 5 Transponder with ADS-B In/Out – featuring Mark XIIB military IFF functionality for UAS weighing 10 lbs. and up, and crypto interface compatible with AIMS 04-900(A) Option B (KIV-77)
MXR Mode A/C/S Rangefinder with ADS-B In/Out – provides omnidirectional Mode A/C/S interrogation, reporting distance-to-target for active surveillance
To find out more about Sagetech Avionics and their miniature transponders for UAVs and drones, please visit their profile page:
https://www.unmannedsystemstechnology.com/company/sagetech-corporation/