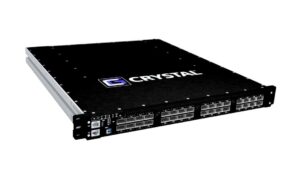 Crystal Group, a designer and manufacturer of rugged computing and networking solutions, has announced the launch of several new products suitable for use on unmanned systems operating in demanding multi-domain environments.
These new computing and networking products are designed to help the U.S. Department of Defense act swiftly and decisively to protect national security and provide up-to-date mission-critical defense capabilities in modern threat landscapes on land, at sea, in the air, in space and in cyberspace. They include:
RCS7850-32Q Rugged Switch – designed for Navy platforms and forward-deployed weapons systems applications, this MIL-SPEC switch offers best-in-class network speed with up to 32 ports of 100 gigabit bandwidth, switching and forwarding and routing capacities, as well as redundant, hot-swappable power supply and real-time, accurate, secure data processing and transmission.
RSS116F 12GB DSU Rugged Secure Storage System — used onboard the UK's Airborne Early Warning and Control aircraft and other key military air assets, this system features multi-level security for military and industrial applications.
RE1711 Rugged Embedded Computer — Optimized for space-constrained environments on submarines and surface ships, this 8″ deep 2U embedded computer is deployed on unmanned undersea vehicles (UUVs) scouting adversaries.
New rugged servers — A variety of solutions that support U.S. Navy systems including electronic warfare, P-8, CANES, ADNS, GBS, CSRR, ARCI and current Technology Insertion (TI) configurations.
Kate Helle, U.S. Navy program manager at Crystal Group, commented: "Crystal Group's rugged, multi-layer, CSfC-ready solutions enable secure, real-time data handling necessary for defeating threats in forward-deployed environments. WEST is the key platform for critical dialogue, collaboration and demonstration of the tools and capabilities that deliver the decisive advantage. We're proud to be part of this forum again in 2020."
Find suppliers & manufacturers of Rugged Computing Solutions >>