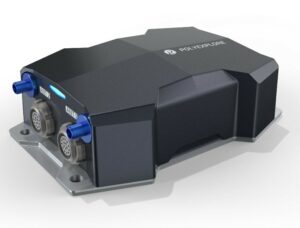 Polynesian Exploration (Polyexplore), a developer of high-precision navigation solutions for drones, unmanned systems and robotics, has announced that it has partnered with ADAS (advanced driver-assistance systems) solutions provider CalmCar to develop an Autonomous Valet Parking system for self-driving cars.
The company's RTK GNSS-INS system was used to aid a self-driving car in accurate navigation of a parking lot, successfully traversing the lot while avoiding obstacles and other vehicles. The unit was mounted on top of the car, providing the vehicle's computing systems with the highly accurate position, velocity, acceleration and heading data required for autonomous operation.
Polyexplore's precision RTK GNSS/INS feature a range of capabilities that are ideal for autonomous vehicle operations in "urban canyons", such as the GPS PPS sync output for sensor synchronization which works during GPS outages, as well as a static position and attitude measurement for a "start-and-go" environment. Polyexplore's Automotive Dead Reckoning (ADR) technology, which uses distance measurement indicator (DMI)/odometer data, also allows the maintaining of precise position during GNSS outages.
Polyexplore's RTK GNSS-INS solutions use tactical-grade inertial measurement and sensor fusion to provide precision navigation capabilities. They incorporate dual antennas and dual-frequency (L1 & L2) RTK operation on all GNSS constellations, including GPS, GLONASS, Beidou and Galileo, with SBAS functionality.
Find out more about Polynesian Exploration's RTK GNSS-INS solutions for autonomous vehicles here
Watch a video showing the vehicle's navigation of the parking lot below: