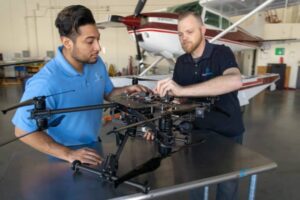 Robotic Skies, a global maintenance and repair network for commercial unmanned aircraft systems (UAS), has announced that it has received a strategic investment from investment firm CerraCap Ventures to support the company's continued growth and development of new essential technologies such as automated software and data handling.
Robotic Skies is a provider of turnkey maintenance solutions for drones and UAVs, designed to scale with the needs of OEMs and enterprise operators and to reduce the costs and risks associated with shipping systems to remote facilities. The Robotic Skies Service Center network has more than 190 independently owned and operated aviation repair stations serving the global commercial UAS market.
CerraCap Ventures is an early-stage technology venture capital firm specializing in cybersecurity, artificial intelligence and advanced analytics, and healthcare technology investments. The firm joins Robotic Skies' investment group, which also includes Boeing HorizonX Ventures, Thayer Ventures, Sun Mountain Capital, and Kickstart Seed Fund.
Brad Hayden, CEO and founder of Robotic Skies, commented: "A robust software platform is essential to aviation maintenance operations. As we continue to support the rapidly expanding unmanned market, a highly automated and data-driven technology stack becomes an even more vital element of our business. The investment from CerraCap accelerates the development of this key enterprise technology for our company."
Saurabh Ranjan, CEO and Managing Partner at CerraCap Ventures, stated: "We are excited to expand our portfolio into commercial unmanned aircraft systems with our investment in Robotic Skies. There is exceptional value in what this company offers the unmanned aviation maintenance industry. With CerraCap investment, Robotic Skies is building a world-class, data-driven services platform to support the safe integration of unmanned aircraft technology."