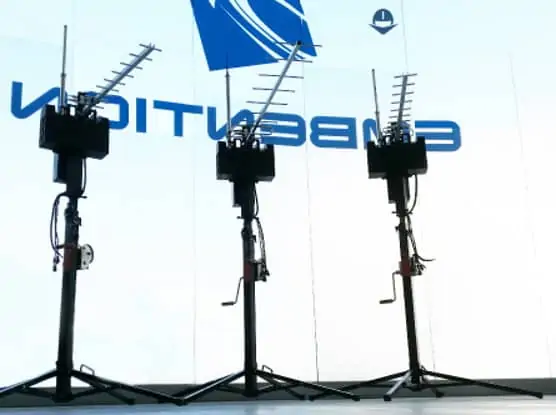 Embention has announced that it has released an updated version of its high-performance Veronte Tracker antenna, designed for tracking UAVs (unmanned aerial vehicles) during civilian and military BVLOS missions with ranges of over 200km. The Veronte tracker can be deployed at fixed sites or on moving vehicles, and can also be used to track other unmanned systems such as UGVs (unmanned ground vehicles) and USVs (unmanned surface vehicles).
The new version can be broken down into three parts for ease of transportation, and features an extendable mast that allows it to work at heights of up to 3.8m. The modular system can accept a variety of antenna configurations, including Yagi, grid-type and omnidirectional 400MHz, 900MHz and 2.4 GHz antennas, and a dual antenna configuration allows the system to automatically switch between the two as the distance from the target vehicle changes. The rugged stainless steel and aluminium construction makes the system highly resilient even in harsh weather conditions.
Embention has integrated its Veronte PCS (Pole Control Station) into this new version of the Tracker, with an easy plug-and-play connection made through a single connector. The system can be started up in seconds in order to rapidly begin tracking. Embention's new GNSS RTK technology, combined with high-precision encoders mounted on the two axes of the Tracker and the dual GNSS receiver, allow the system to be used in high-performance operations with highly precise and reliable target tracking.
A spokesperson from Embention commented: "The new Veronte Tracker version, together with the integrated PCS, is established as a compact, lightweight and easy-to-handle solution that makes it versatile for any professional unmanned vehicle tracking operation on BLOS missions."
Embention's products are distributed in the U.S. by Northwest UAV.