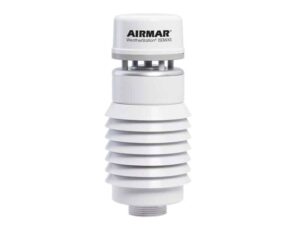 Airmar Technology Corporation, a developer of ultrasonic sensor technologies, has announced the launch of the new 110WXS and 150WXS WeatherStation Multisensor instruments, designed to provide real-time, site-specific weather information for applications such as unmanned aerial vehicle (UAV) ground control stations and launch sites.
The 150WXS is built upon the success of Airmar's previous WeatherStation products and provides high-accuracy measurements of true and apparent wind speed and direction, barometric pressure, air temperature, calculated wind chill, and relative humidity with dew point and heat index. It features a built-in GPS receiver and two-axis compass for providing heading and timestamping. The 110WXS offers the same features as the 150WXS except for relative humidity, GPS receiver and compass.
Both the 110WXS and 150WXS are housed within rugged, compact enclosures that are resistant to UV and solar radiation, rated to IPX4 ingress protection with CE, RoHS, and IEC60945 product certifications. Both systems can be used as standalone units or as part of a wider-area weathr monitoring network.
Jennifer Matsis, VP Sales and Marketing at Airmar, commented: "Airmar's WeatherStation Multisensors have long been known for their rugged, maintenance-free reliability. With the increased data stability delivered from the solar radiation shields on the new 110WXS and 150WXS, users can count on enhanced data integrity in varying environments."