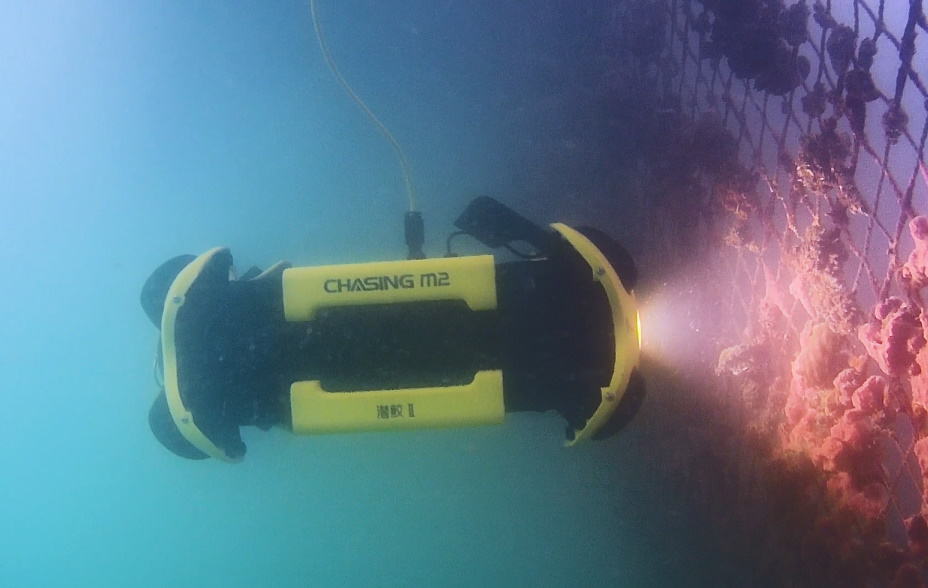 Chasing, a developer of underwater robotics platforms, has announced the launch of its latest product, the M2, designed for light-duty professional and enterprise observation and inspection applications. The compact ROV (remotely operated vehicle) is constructed from aluminium alloy and weighs less than 5 kg.
The M2 features eight vectored thrusters, allowing it to steer in all six directions, as well as rotate and pitch. It is equipped with a digitally-stabilized camera capable of 4K video and 12-megapixel stills, and LED lights rated at 4000 lumen. The ROV can operate at depths of up to 100m and is ideal for a wide variety of applications requiring capture of underwater details, such as research, fish farming, and marine equipment inspection.
Additional GoPro cameras and extra lights can be mounted on the M2's front and rear. The platform can also be fitted with sensors, such as laser-based measuring equipment to determine the size of underwater objects, measure cracks, or monitor the growth of fish. A swappable battery and removable MicroSD memory card means more efficient operation, doing away with the need to charge the ROV or download data.
Chasing has also developed a new professional-grade remote controller and an E-Reel electronic winder for more convenient operation and rapid deployment of the M2. The battery-powered E-Reel can automatically roll up or unroll its 200-meter-long cable in just 2 minutes, up to 12 times per charge. It comes equipped with an anti-explosion cable, battery protection technologies, and a power display, and can also be used with other Chasing underwater drones, including the consumer-grade GLADIUS MINI.
Jacky Yang, Chasing co-founder and CMO, commented: "Current radio-operated submersibles for the professional market are often too big, heavy, and expensive for many governments, companies, and organizations. As a result, fish farming, hull inspection, reservoir dam inspection, rescue operations, and other applications are currently ignored by the market. Just 10% of the global market is being served, with a segment worth some 60 to 80 billion yuan currently sitting undeveloped."