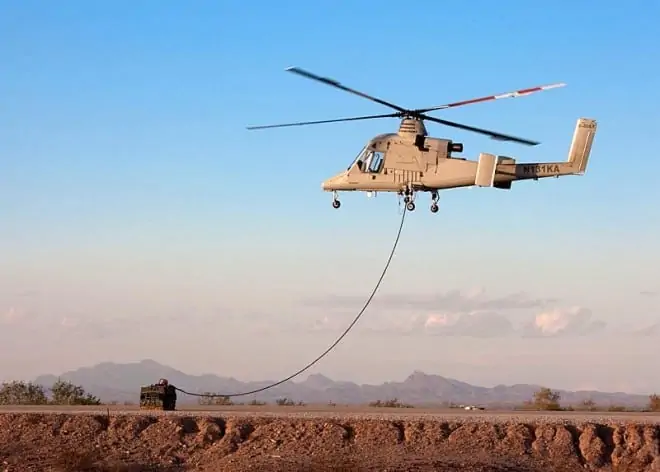 Kaman Air Vehicles has announced that the company plans to advance both its military and commercial K-MAX Unmanned Aerial Systems (UAS) programs. The K-MAX is a heavy lift helicopter that was originally created as a manned platform, with the unmanned version first developed for use in Afghanistan during Operation Enduring Freedom from 2011 to 2013.
The further development of the military K-MAX UAS will provide unmanned aerial logistics to support US Marine Corps future operating concepts, adding flexibility and faster distribution to Marine ground operations while reducing risk to personnel. The two existing USMC K-MAX unmanned helicopters are being upgraded through a contract with the US Navy and will include enhanced autonomous capabilities, a new ground control station, and sensor-based autonomy.
Kaman is also developing a new K-MAX UAS kit for commercial applications which has already seen interest from potential customers including one company that has identified a need for autonomous helicopter operations in the remote regions of Alaska. The new unmanned kit will be installed on existing aircraft as well as on new production K-MAX helicopters.
Romin Dasmalchi, Senior Director Business Development of the Kaman Air Vehicles division, commented: "We have a combat proven system that sustained over 95% readiness while in the field. Looking ahead the next generation aircraft will leverage advancements in unmanned technologies and will add new autonomy capabilities."
Darlene Smith, Vice President and General Manager of the Kaman Air Vehicles division, stated: "We are extremely proud that we can provide new, life-saving systems that will directly support our deployed warfighters and give them a distinct advantage."