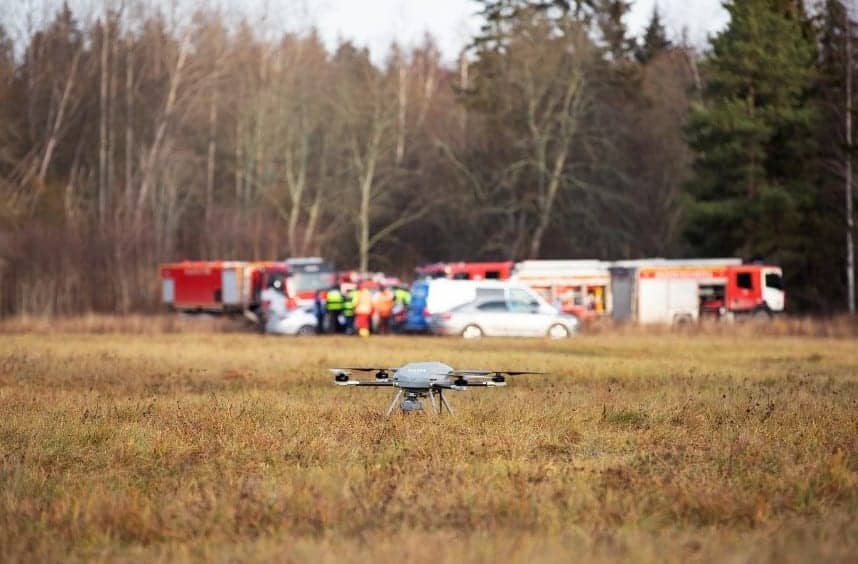 Threod Systems has announced that its Stream and Titan unmanned aerial vehicles (UAVs) have participated in a joint exercise involving the Estonian Rescue Board's Järva County Rescue Team, Ambulance, Police and Border Guard Board, Environmental Inspectorate, Defense League and EST-SAR. The exercise, which took place in Nurmsi, Estonia, simulated the emergency landing of an AN-2 aircraft as well as involving 5 skydivers, and aimed to evaluate the readiness and cooperation of all parties in dealing with a high-complexity event.
The scenario staged an engine failure on the AN-2, requiring the skydivers to make unplanned jumps, resulting in some getting stuck in the treetops and others landing in the dense forest. Threod's UAVs were used to assist in the later stages of the search and rescue operation, when only one missing skydiver was still to be found. The Stream C UAS, equipped with an Orca MWIR gimbal, identified the skydiver and assisted paramedics in reaching his location.
The UAVs were controlled from a mobile command center equipped with a datalink, communication system, and workstations for both UAV and payload operators. The command centre also featured extra widescreen displays and other facilities that enabled state-of-the-art UAV control and real-time data processing.
Threod's Stream C UAV operates at altitudes of up to 4000 meters and ranges of up to 150km, and can detect a human at distances of over 9 kilometers. It is designed for Intelligence, Surveillance and Reconnaissance (ISR) and wide-area surveying missions and is ideal for search and rescue operations.
Threod's multirotor Titan UAV can be set up and deployed in as little as 10 minutes and can assist first responders with disaster relief, riot control and incident site surveillance.