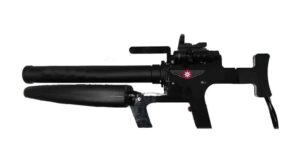 Aeronautica SDLE, a developer of UAS (unmanned aerial systems) technologies, has announced that it has been awarded a contract by the Spanish Ministry of Defense to provide two portable counter-drone systems that will be used by the Guardia Civil (Spanish law enforcement agency).
The rifle-shaped systems use directional antennas to disable drones that have been identified as threats, and work by jamming communications between drones and their pilots, inhibiting signals such as command and control transmissions, telemetry, video links and satellite signals.
Aeronautica's counter-UAS systems can be deployed against an unlimited number of drones, and can also be fitted with omnidirectional antennas in order to protect against sudden undetected threats. The company can provide other customisations as well as versions of the system for moving vehicles or fixed-site locations.
Aeronautica has developed its counter-UAS systems in response to the growing threat posed by easy access to commercial drones, which can be used to attack public and private institutions, industrial sites and critical infrastructure, using methods such as espionage, data theft, or physical attacks.
Find suppliers and manufacturers of counter drone technology >>