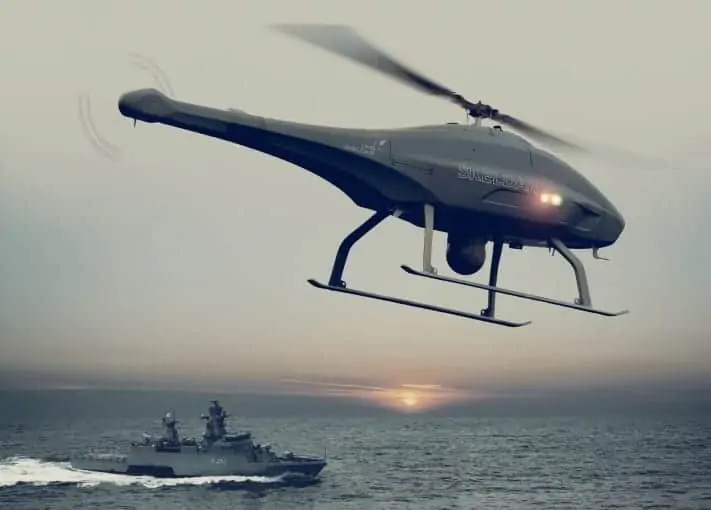 UMS SKELDAR has announced that, following manufacturing outsourcing of its SKELDAR V-200 Vertical Take-Off and Landing (VTOL) unmanned aerial vehicles (UAVs) to international contractor Scanfil, the first of these units have entered deployment.
This boost in production follows major contract wins with the German Navy and Royal Canadian Navy, and important advancements to the flagship SKELDAR V-200 platform over the last 12 months. UMS SKELDAR believes this to be a critical phase in the company's growth. UMS SKELDAR will continue to develop more prototypes as it expands software operations, research and development and training solutions. Further ongoing advancements are also being made to the SKELDAR V-200 UAS.
The SKELDAR V-200 maritime UAS is designed to provide offshore patrol vessels with an embedded, eye in the sky intelligence, surveillance and reconnaissance (ISR) capability. The platform is powered by a heavy fuel engine that operates on Jet A-1, JP5 and JP8, and can fly for over five hours with multiple payloads and extended time between overhauls.
Axel Cavalli-Bjorkman, CEO of UMS SKELDAR, commented: "2020 will be a very big year for us, and one where the hard work of the team from the last 18 months will pay off as we fulfil the company's potential. With the ability to serial produce our pioneering SKELDAR V-200 platform and thanks to further contracts in the pipeline, we are on a high growth trajectory that will place us at the forefront of the global maritime UAV market."
"We have been extremely impressed by the professionalism and the rigorous standards achieved by the production team. This close relationship with Scanfil is a true partnership of expertise and importantly provides us with the required volume production at a time when our SKELDAR V-200 is being recognised for what it is; one of the best VTOL UAV platforms in its class in the market today."
Steve Creutz, Managing Director of Scanfil Åtvidaberg, said: "We are proud to be a partner of UMS SKELDAR at a time when the company is going from strength-to-strength. With our expertise in manufacturing processes, we aim to provide UMS SKELDAR with the depth it needs to fulfil more contracts in the future."