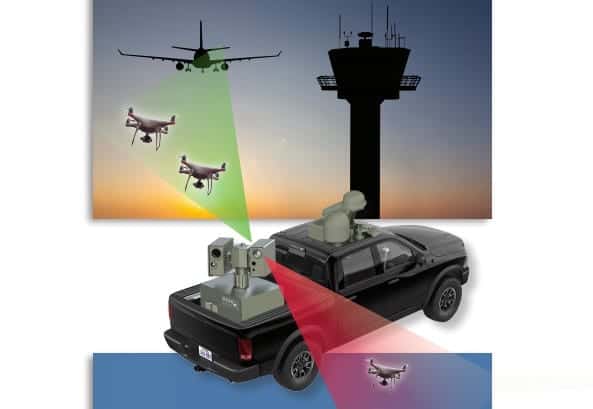 Applied Technology Associates (ATA), a developer of precision optical technologies, has announced the introduction of its new counter-drone system, LOCUST (Low-Cost Counter-Unmanned Aerial System for Targeting).
The system, which is currently participating in U.S. government field experiments, has been designed as a defense against asymmetric threats using low-cost unmanned aerial systems (UAS) such as commercial quadcopters. It detects and identifies rogue drone threats using active and passive radio frequency (RF) and electro-optical infrared (EOIR) sensor subsystems, and then counters the threats using intelligent electronic attack (EA) and high energy laser (HEL) weapons.
Suitable for military or commercial applications, LOCUST delivers layered detection and identification of Group 1 and Group 2 UAS threats, and can be mounted on fixed stations, or on moving platforms with HEL shoot-on-the-move capability. Featuring military intelligence, surveillance, and reconnaissance (ISR) capabilities, it can be rapidly inserted into integrated battle management, command, and control (BMC2) architectures.
ATA President Dan Gillings commented: "Applying ATA's technical strengths to help protect our military and civilians from the rapidly emerging threats of small unmanned aerial systems is an endeavor that builds on our heritage and is pivotal to ATA's future aspirations for high-tech solutions and manufacturing."