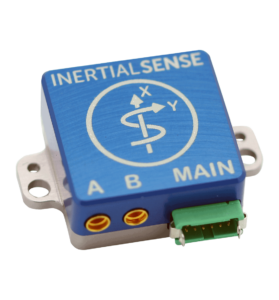 Inertial Sense, developers of miniature high-performance precision GNSS Inertial Navigation Systems, has released of a line of dual GNSS Heading sensors for tough environments and demanding applications, such as UAVs/drones, unmanned marine vessels and autonomous ground-based vehicles.
The Inertial Sense µINS-Dual heading solution, based on dual GNSS on-board receivers, provides a 0.3 deg heading accuracy using a 1-meter antenna distance baseline.
The Dual GNSS-INS Compass resolves accurate True North heading in two challenging conditions.
Stationary applications
Environments with magnetometer interference
Historically, engineers have had to rely on magnetometers or the dynamic motion of the vehicle to derive heading. Accurate GNSS derived heading from two antennas in combination with the on-board fusion of inertial sensors provides a robust and accurate compassing solution at a dramatically lower price point than competitive offerings.
Inertial Sense's Dual GNSS Compassing micro-INS joins their line of fast, accurate and reliable INS/AHRS/IMU sensors, providing the highest degree of precision for heading (yaw) in the smallest package ever offered in the market.
Brian Cahoon, CEO at Inertial Sense commented: "Demand for a compassing solution has been high. Our beta-customers are reporting great results. Popular applications for the solution are antenna and radar pointing as well as marine and ground-based vehicle navigation".
Inertial Sense brings this product to market in an industry-leading form factor – it is the smallest GNSS-INS with dual compassing currently available. The Dual GNSS Compassing micro-INS is as small and lightweight as a dime, and is available at cost-effective price points. The sensor can be purchased as an OEM module, in a rugged package or in a development kit with a full evaluation board.
Bundled Development Kits are available for evaluation purposes, which are simple to use and contain everything required to get an application up and running.