The agenda for the 7th AutoSens conference in Brussels (Belgium) reflects the ever-evolving and important conversations required for the future developments of autonomous vehicle technologies.
Building up to its flagship event in September, second in the calendar year, AutoSens announces a 70+ strong line-up of autonomous vehicle experts and scientists featuring on its eagerly anticipated technical conference agenda. Themes include the latest LiDAR innovations, sensor fusion, the use of AI and many other important developments. Sessions will deliver invaluable updates for an international audience of 550+ technical experts and engineers.
View the full agenda here. 
Technology continues to develop apace, and there are still many challenges remaining in autonomous vehicle tech such as image quality, simulation and testing, and ensuring that all systems to be deployed have been validated with enough rigour to ensure safe operation. The required performance levels are much higher than those of human drivers, and ongoing challenges for the industry will remain key themes on the AutoSens agenda.
One particular hurdle to be addressed is establishing a robust bridge between sensing and machine learning to build the most effective perception system. So far the fields of imaging and machine vision have been developing somewhat independently, but AutoSens will fuse the two as sessions at the conference shed light on the practical aspects of building such vision systems, and bring in additional perspectives from both engineering disciplines to increase awareness of how these areas can work together.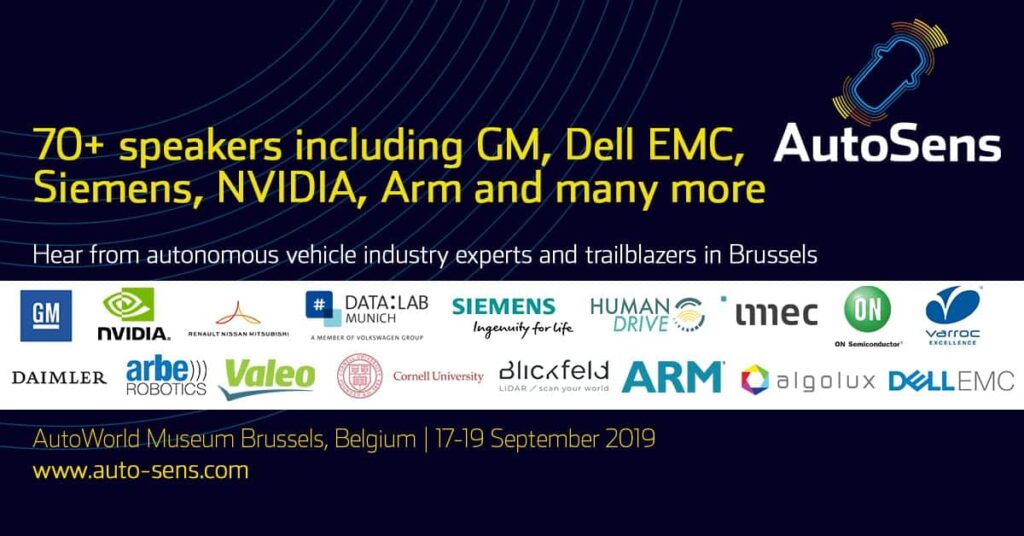 Attendees will hear from major manufacturers General Motors and Daimler during technical tracks on automated ground truth and maintaining quality in the production process of cameras respectively. New companies taking their place on the agenda in September include Varroc Lighting Systems, Phasya, imec, TriEye and Blickfeld. Expert insight will also come from Robin Jenkin, Principal Image Quality Engineer at NVIDIA on detectivity in automotive camera applications.
View line up of speakers here.
"The AutoSens agenda is packed with fresh content, and we have some intriguing panel discussions lined up, so I think the most interesting takeaways are likely to come from those. I'm looking forward to listening to the expert presentations, discussion on important topics and to the open conversation that makes AutoSens a unique place to learn and network." comments Robert Stead, Event Director of AutoSens and Managing Director of organising company Sense Media Group.
Early bird ticket prices end Friday 12 July and can be purchased here.