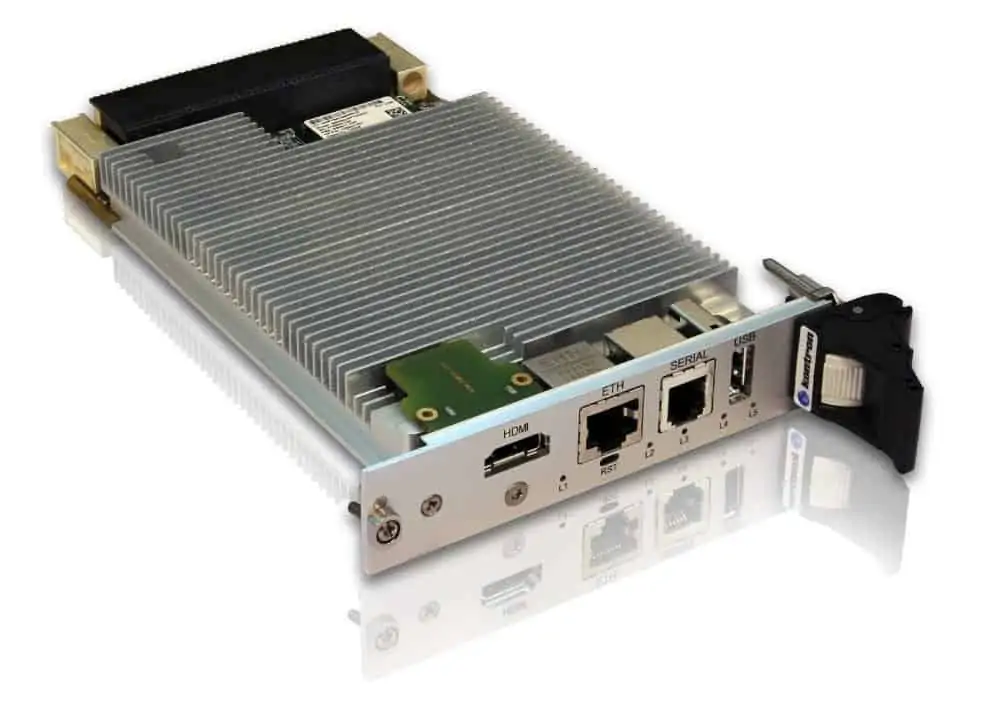 Kontron, a provider of IoT/Embedded Computer Technology (ECT) solutions, has announced the successful design and test of an upgraded 3U VPX single-board computer, and the start of evaluation unit deliveries to its key customers. Based on the in-production VX3058, the upgraded VX305C integrates the 12-core version of the Intel Xeon-D processor architecture (Broadwell DE), which further boosts the performance of the highly integrated Kontron VX3058 and brings a new level of performance to battlefield server-class computing and digital signal processing (DSP) performance.
The new VX305C keeps the feature set of its predecessor including its Dual 10 Gigabit Ethernet (GbE), high bandwidth PCI Express (PCIe) 3.0, and high speed DDR4 memory, is ruggedized for harsh environments, and is size, weight, power and cost (SWaP-C) optimized. These features and benefits make it ideal for demanding military server and other high-performance embedded computing (HPEC) applications such as UAVs (unmanned aerial vehicles) and other unmanned systems. This holds true especially for virtual machine architectures that can take advantage of the extensive capital and operational efficiencies provided by isolated workloads configured to dynamically share common resources.
Find suppliers of Embedded Computing solutions >
"Kontron is continuously working to raise the bar in high-performance battlefield computing," says Andy Mason, VP/Head of Technology Platforms at Kontron. "The VX305C marks an important jump in processing power packaged for rugged deployed environments, while maintaining the rich feature set and backplane compatibility of earlier generations of Kontron 3U SBCs. It provides to our customers the processing power they need to develop and deliver new and innovative applications and capabilities to the warfighter."
The Kontron VX305C leverages the 12-core Intel Xeon-D 1559 processor to provide two 10 GBASE-KR ports and 8 lanes of Gen3 PCI Express to the backplane. Providing more capabilities in a 3U footprint, the VX305C also offers versatile mezzanine options for XMC, storage, and graphics. One M.2 interface can be used for storage or for integration of customized personality modules, while a second can be used to add 2D HDMI graphics. Front I/O module options are selectable for DVI/HDMI, Ethernet or other interfaces.
The Kontron VX305C is pin compatible with the company's popular and previous generation VX3058 and VX3044 3U VPX boards, which already deploys 10 gigabit (G) Ethernet and PCIe gen3 on the OpenVPX backplane. Options include a shelf manager for centralized health management, sequenced system power-up and Temperature/Power/Performance management as well as Power-On Built-in Test (PBIT) that give designers a comprehensive package for board and system diagnosis.