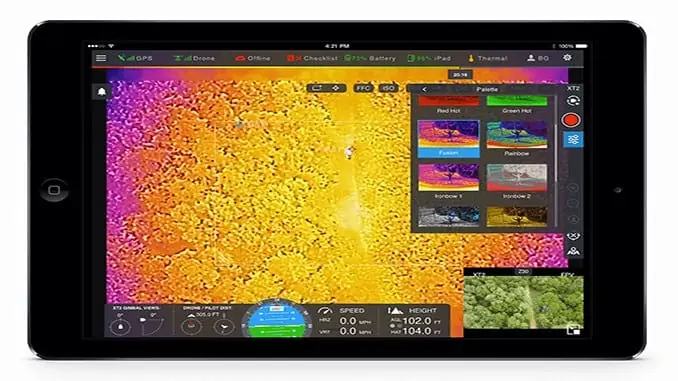 FLIR Systems has announced the release of DroneSense–FLIR Edition, a drone flight management software platform designed for public safety applications. FLIR previously announced a strategic investment in DroneSense, an unmanned aircraft system (UAS) software platform maker, and this is the first product under that collaboration. DroneSense-FLIR Edition is a software platform that combines thermal and visual imaging processing with flight data planning and management capabilities across public safety organizations to help improve incident response.
DroneSense-FLIR Edition streams FLIR thermal sensor data directly into the software, making it a single-source, fully-integrated software platform for drones used in incident response applications such as fires, floods missing person search and rescue, disaster damage assessment and more. It includes features such as autonomous flight control, live video streaming, both on-scene and off-site, and drone asset and compliance management capabilities. The platform is hosted on a secure government cloud server and enables real-time data interpretation for a variety of drones and use cases.
The DroneSense-FLIR Edition supports the DJI Zenmuse XT2 and any DJI drone-based thermal payloads offering Thermal by FLIR with feature functionality including visual, thermal, picture-in-picture, side-by-side imagery, and robust telemetry feature set. It may be connected via Wi-Fi or cellular networks with multiple feed streaming capabilities or used as a stand-alone, independent communications remote ad-hoc network with automatic logging and syncing of all flight data.
"Drones are a vital tool in various incident response scenarios, and the addition of FLIR thermal sensor data provides a powerful asset to first responders," said Frank Pennisi, President of the Industrial Business Unit at FLIR. "The use of FLIR thermal technology on drones has earned tremendous interest by public safety organizations both due to their relatively low cost for an airborne surveillance system and rapid deployment capabilities. Now through our partnership with DroneSense, first responders can stream thermal data into DroneSense's flight control software to transform incident response management."