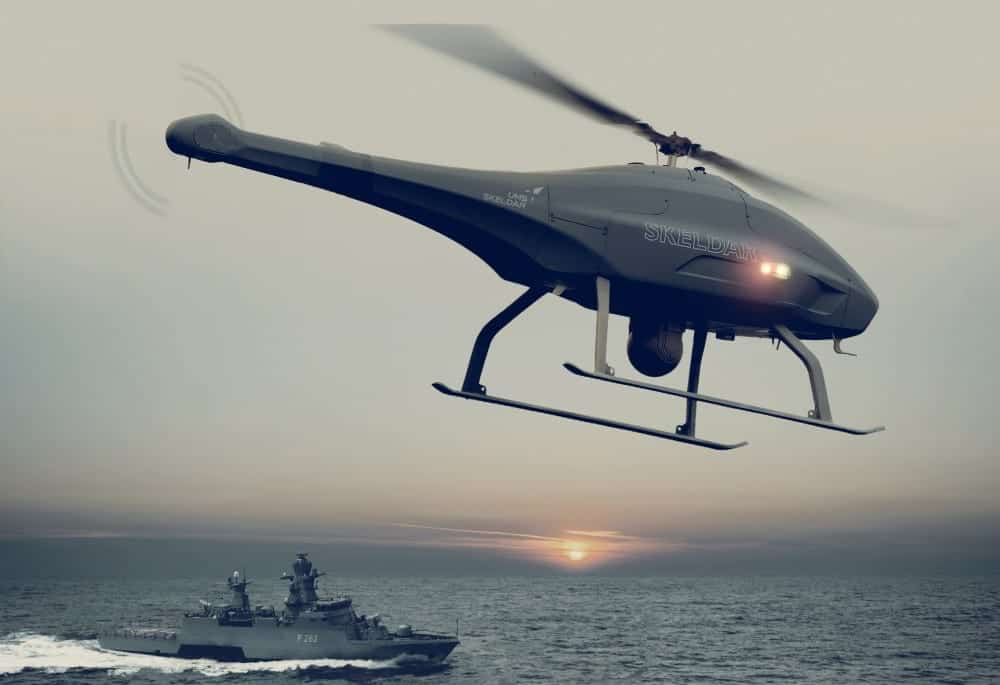 UMS SKELDAR has announced that it has has been awarded a procurement contract through Munich-based partner and prime contractor Elektroniksystem- und Logistik-GmbH (ESG) for a new unmanned aerial vehicle (UAV)-based reconnaissance system for the German Navy, specified by the Federal military procurement agency Federal Office of Bundeswehr Equipment, Information Technology and In-Service Support (BAAINBw).
The contract was ratified between ESG and UMS SKELDAR in Linköping, following an end-user contract confirmation signed by BAAINBw and ESG in Koblenz. The NATO-compliant heavy fuel rotary UAV SKELDAR V-200 is scheduled to be deployed from the German Navy Corvette Class 130 by the end of 2019.
The SKELDAR V-200B variant unmanned helicopter will provide additional reconnaissance capabilities extending existing onboard sensors through in-flight real-time imagery and intelligence gathering. The procurement includes a SKELDAR V-200 unmanned aircraft system consisting of two unmanned aerial vehicles as sensor carriers, integration of the system into the Class 130 Corvette, a spare parts package and training of ship-borne operators and maintenance personnel.
Speaking of the naval focus for UMS SKELDAR, Axel Cavalli-Björkman, CEO of the UAV joint venture between Sweden's Saab and UMS AERO of Switzerland explained: "This is an important contract and confirms our capability and commitment to working with the German Navy and other world navies. SKELDAR V-200 was conceived as a maritime platform, and we have continued a program of enhancements including technical, sensor and flight endurance along with our superior industry-leading engine manufactured by German-based Hirth Engines. The unmatched flight endurance and time between overhauls (TBO) make our system first choice for navy commanders."
Provided ready for seaborne missions, with multiple payload options, the maritime rotary unmanned aerial system is suitable for C4ISR (Command, Control, Communications, Computers, Intelligence, Surveillance and Reconnaissance) and SAR (Search and Rescue) roles. SKELDAR V-200 uses Jet A-1, JP5 and JP8, kerosene-based fuel (NATO code F-34, F-44).
According to Mr. Christoph Weber, Executive Vice President Defence + Public Security of ESG: "This contract represents an important milestone for us, in partnership with UMS SKELDAR. Our collaborative industry leading development of rotary UAVs, backed by ESG's established supply of innovative electronics, avionics and associated services to the German defence forces provides the template for further developing this important strategic asset for the German Navy."