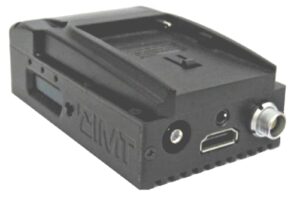 xG Technology, a developer of wireless video solutions, has announced that its IMT Vislink business unit has released the MicroLite 2 HD ultra-compact COFDM wireless video transmitter. The MicroLite 2 provides enhanced performance and video quality and is designed for broadcast applications where high-quality live streaming video is needed, such as unmanned aircraft surveillance.
The MicroLite 2 transmitter represents the latest version of IMT Vislink's video transmission systems and features HD/SD-SDI and HDMI inputs with COFDM transmission in a small, lightweight chassis. It delivers up to 250mW of power, providing long range and reliable HD video transmission.
"As a company, we are always evolving and trying to provide versatile and intuitive broadcast solutions that can adapt to any user's needs," says John Payne IV, president of IMT USA. "With the MicroLite 2, broadcast professionals are able to transmit high definition video within a small form factor, while utilizing its lightweight design for Steadicam operations, event coverage, confidence monitoring, web content programming, rental houses and drone use. It inherits a proven technology base that has been used extensively by leading broadcasters for a variety of demanding applications."
The MicroLite 2 has the ability to operate at latency levels as low as 70ms. The system was designed with a compact size and weight form factor and minimized power requirements, and operates with both the 7.4VDC camera lithium ion batteries as well as the V-mount style of batteries.
IMT's COFDM technology ensures the transmission of uninterrupted, live video over two miles Line-of-Sight (LOS), despite the effects of foliage, challenging terrain, buildings and other common non-line-of-sight limitations. It delivers the image clarity required for real-time, H.264 (MPEG-4) HD broadcast-quality video transmissions, which gives the MicroLite 2 an advantage in quality over uncompressed video solutions.
The transmitter is easily managed through a configured or remote WiFi web server. An Android or iOS device detects the encrypted WiFi signal and automatically opens a browser window. A 900MHz transceiver enabling processing of remote commands including camera control is also an option. The transceiver provides bi-direction controls of the transmitter, accessory camera, gimbal controls and more.