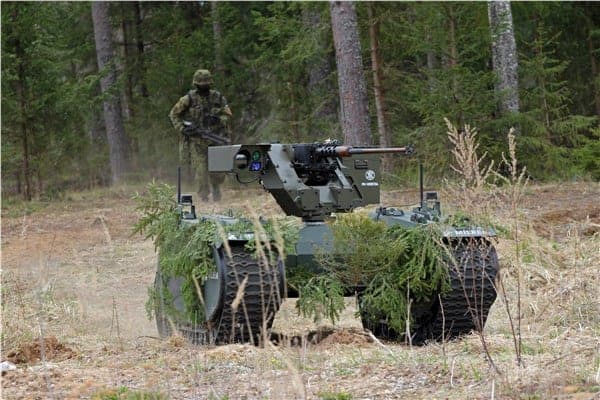 Weapon systems manufacturer FN Herstal and defence solutions provider Milrem Robotics have announced the introduction of their first joint product, a weaponized unmanned warfare system, at DSEI 2017.
This system combines Milrem's THeMIS unmanned ground vehicle and FN Herstal's deFNder remote weapon station. The joint product has strong advantages in providing fire support and acting as a force multiplier for warfighters.
The system has already been deployed with positive results at the largest Estonian military exercise Spring Storm 2017. The two companies will continue their R&D efforts later this year.
"Weaponized robotic systems are the next generation of warfare that will provide a new level of fire power and most importantly keep our soldiers in a safe distance," said Kuldar Väärsi, the CEO of Milrem Robotics. "And I am not talking about AI driven systems but remotely controlled solutions where human operators make all the important decisions," he added.
"The combined solution of deFNder Medium and THeMIS, merging the technologies and expertise of our two companies, illustrates the potential of the concept," said Vincent Verleye, COO of FN Herstal. "The value added of such a weaponized robotic system is self-explanatory," he added.
The tracked diesel-electric THeMIS UGV is intended to provide support for dismounted troops even on very harsh terrains and in difficult conditions. It offers 10 hours of work time with one full tank that can be topped up anytime. The system has a payload of at least 750 kg /1650 lbs.
The THeMIS is a multi-mission system that can be equipped with several different superstructures including IED detection and disposal systems, small and large calibre weapons and also tethered and non-tethered drones.