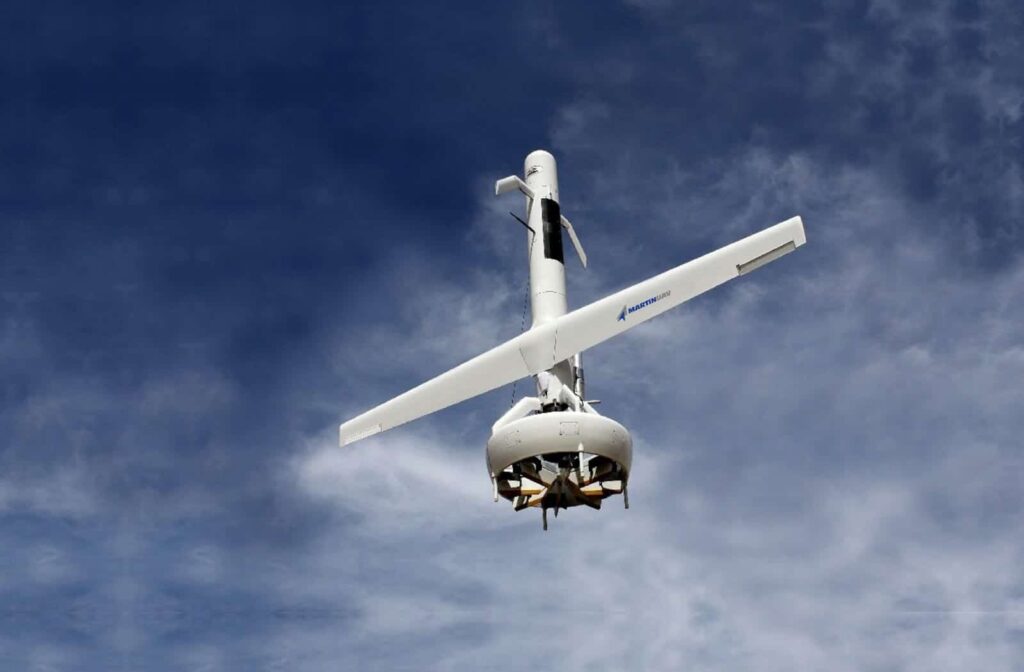 Hirth Motors has developed a new propulsion system for MartinUAV's V-BAT transitional vertical take-off and landing (VTOL) unmanned aircraft system. Hirth's new 15hp 4201 air-cooled 2-stroke boxer engine has been integrated into the V-Bat UAV to improve operational endurance and to add heavy fuel capability. MartinUAV has successfully flown the the V-Bat UAV with the new gasoline engine, demonstrating hover and transition to horizontal flight.
Features of the 183cc 4201 engine include:
Advanced closed loop fuel control to optimize performance
CAN bus or RS485 interface for easy communication with the V-Bat flight computer
On-board data storage of engine run parameters allowing post flight analysis
Shielded ECU/harness to protect against electromagnetic interference (EMI)
1kW starter/generator to provide remote start and air vehicle electrical power.
The engine also features automatic altitude and temperature compensation, enabling reliable start and operation in a wide operating range, at temperatures of -40 to +50 degrees C (-40 to +122 degrees F) and altitudes of 0 – 6000m (0 – 20,000 ft.).
The 4201 variant integrated to the V-Bat can also be adapted with a 1:2 reduction drive for fixed wing applications to spin a larger propeller to reduce noise and increase thrust. There is also an optional iPowerTM variant of the 4201 engine that enables spark ignition operation on heavy fuel. This will allow MartinUAV to meet NATO's one fuel policy which eliminates gasoline for safety and logistic reasons.
Hirth's CEO, Heinz Waras, stated: "We are excited to be working with MartinUAV on their advanced V-Bat UAV solution. VTOLs are very popular because of their runway independence and MartinUAV's transitional solution offers the endurance benefits of a fixed wing and take-off/landing benefits of a helicopter. This eliminates the need for launchers, runways or capture methods. Also, the ducted fan solution keeps operators safe compared to rotary wing solutions. The combination of MartinUAV's air vehicle benefits and Hirth's propulsion benefits provide an opportunity for both companies to expand their UAV business."
Hirth Motors are available in the U.S. through UAV Propulsion Tech.