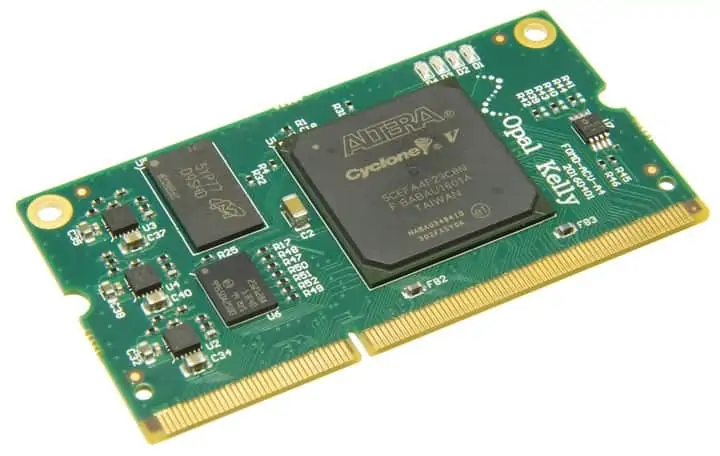 Opal Kelly, a developer of FPGA (Field-Programmable Gate Array) integration modules, has announced the FOMD-ACV-A4, the company's first FPGA-on-Module for integration applications that do not require FrontPanel support. The FOMD-ACV-A4 is a small, thin, SODIMM-style module that fits a standard 204-pin SODIMM socket for low-cost integrations and includes on-board power supplies, flash memory, and DDR3 memory.
Measuring 67.6mm x 36mm x 3.7mm, the FOMD-ACV is designed to fit a standard DDR3 SODIMM socket. Only a single commodity DDR3 SODIMM socket is required on the carrier, eliminating the cost of mezzanine connectors on the module and reducing carrier cost. The compact module includes an Altera Cyclone V E FPGA and 512 MiB DDR3 memory, making the module suitable for many types of embedded systems applications, including data acquisition and image and video capture/processing.
Find suppliers of Embedded Computing solutions >
The module is powered externally from the customer's carrier board and the on-board high efficiency switching power supplies accept a wide input voltage allowing the device to operate from standard lithium ion rechargeable batteries. On-board 16-megabyte flash may be used to store configuration data so the FPGA can boot quickly when powered on. These features allow the device to be used in portable applications such as drones and other unmanned vehicles.
Opal Kelly also offers an optional evaluation and reference platform, the BRKD-ACV, that includes over-voltage protection for the DC input, user-programmable power supplies, and four Digilent PMOD connectors for experimentation and evaluation of the FOMD-ACV. With this combination, customers can immediately start developing their final application and migrate to a custom-designed carrier when that becomes available.