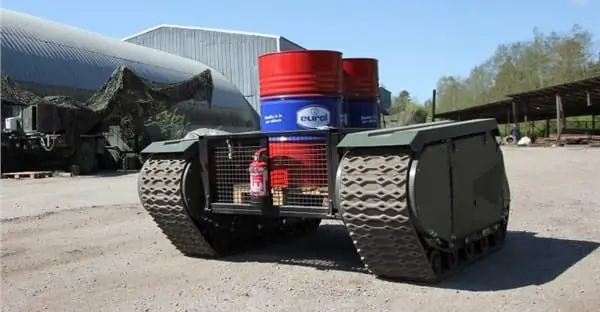 QinetiQ North America and Milrem have announced the introduction of Titan, an unmanned ground vehicle (UGV) that combines Milrem's THeMIS (Tracked Hybrid Modular Infantry System), a fully modular hybrid UGV made for military applications, with QinetiQ North America's robotic control technology – the Tactical Robot Controller (TRC) and Robotic Appliqué Kit (RAK). This joint solution not only meets, but exceeds, the rigorous Squad Mission Equipment Transport (SMET) program requirements. As a multi-mission vehicle platform, Titan is able to perform complex and hazardous tasks on the battlefield that are currently performed by soldiers.
Key benefits include:
Increased unit capability and squad support on extended missions
Increased mission effectiveness
Improved safety for warfighters
Provides high load carrying capability and off-road mobility
Diesel/Electric hybrid offers run-silent mode and squad auxiliary power
Operable in unmanned or manned modes
"QinetiQ North America has a long history of providing the military with robust and reliable products that enable safer and more efficient operations. We are very excited to partner with Milrem and leverage QNA's unmanned ground vehicle technology to offer a new highly mobile, hybrid-electric robotic system that lightens the warfighter's load, increases soldier safety and improves mission endurance," said Jon Hastie, Product Manager at QinetiQ North America.
"We are thrilled to partner with QinetiQ NA, a pioneer and technology leader in the unmanned ground vehicle sector," said Kuldar Väärsi, CEO of Milrem. "QinetiQ North America's well-known and robust control system and Milrem's highly versatile modular vehicle platform combine to create an ideal solution that adapts to any mission, from logistics support to advanced weapon systems."