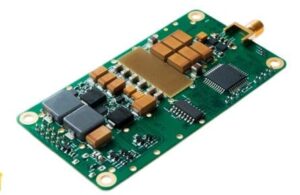 Flightradar24, a flight tracking service, and Skysense, a provider of safety solutions for drones, have announced that the two companies have joined forces to make drones visible using the same ADS-B technology as adopted by civilian aircraft.
As part of the agreement Flightradar24 has made a substantial investment in Skysense. The capital will be used to pursue its product roadmap based on ADS-B technology. Launched at XPONENTIAL 2016, BCON¹ is an ADS-B OUT device with a unique combination of characteristics to meet the inherent needs of small UAVs. Skysense claims that BCON¹ is to date the lightest, smallest and most efficient ADS-B OUT (1090ES) device on the market. BCON¹ will be followed with products supporting Mode S and ADS-B IN.
Henrik Vilselius, chairman and co-founder of Skysense says "To make drones visible and be able to track them, is an important enabler for making drones part of the new disruptive transportation infrastructure and safely co-exist with traditional civilian air carriers. We are delighted to have started this journey together with Flightradar24."
"I'm very excited to work with the Skysense team on cutting-edge hardware that will revolutionize the drone industry," says Fredrik Lindahl, CEO at Flightradar24.
Find suppliers of UAV tracking systems >
Find suppliers of UAV Transponders >