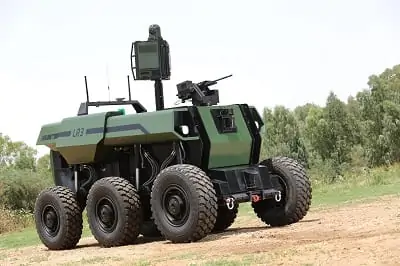 Israel Aerospace Industries (IAI) has announced the introduction of RoBattle, an unmanned, heavy duty, highly maneuverable combat and support robotic system. The system is designed to be integrated with tactical forces in mobile, dismounted operations and support a wide range of missions including intelligence, surveillance and armed reconnaissance, convoy protection, decoy, and ambush and attack.
RoBattle, the newest member of IAI's family of unmanned ground robotic systems, is equipped with a modular "robotic kit" comprised of vehicle control, navigation, RT mapping and autonomy, sensors and mission payloads. The system can be operated autonomously on several levels and configured with wheels or tracks to address the relevant operational needs. Operators can equip RoBattle with different payloads including manipulator arms, Intelligence, Surveillance and Reconnaissance (ISR) sensors and radars, and remotely controlled weapons.
Find suppliers of Unmanned Ground Vehicles >
"The RoBattle system is based on IAI's vast experience and heritage in development and manufacturing of unmanned systems including unmanned ground vehicles (UGVs). With the modular 'robotic kit' methodology, designed to meet specific customer requirements, RoBattle is one of the most advanced combat, maneuvering, ground robotics in the market," said Meir Shabtai, IAI's Deputy general manager of ground robotics systems.
"The RoBattle will become a significant player in the ground robotics market. It presents advanced technologies and capabilities that can close the operational gaps in the future battlefield challenges. We are looking forward to all opportunities in the market".