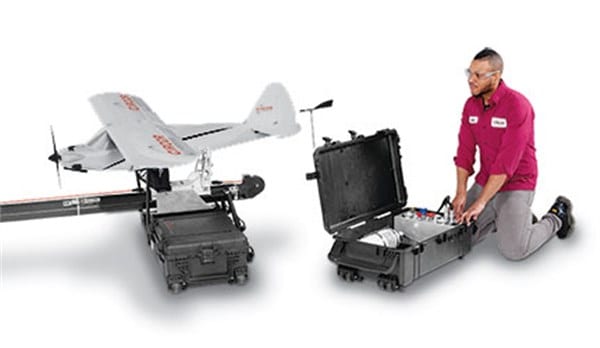 CIRCOR Aerospace & Defense has announced the introduction of TruLaunch, a lightweight, high-pressure pneumatic rail launcher for commercial Unmanned Aerial Vehicles and Systems (UAVs/UAS). TruLaunch is designed for optimal flexibility, portability and durability in the field.
TruLaunch is made from high-tech carbon fiber, a material that is significantly lighter and stronger than steel. The carbon fiber advantage means TruLaunch can be easily transported and set up in minutes by a single operator, yet the unit is highly durable to withstand any field application or extreme terrain. TruLaunch can be used for multiple UAV launches and configurations for supremely flexible operation. Operators can also fine-tune launch parameters based on individual UAV specifications.
Find suppliers of UAV Launching Systems >
"We believe the opportunities inherent in using UAV's for commercial exploration and surveying will continue to grow. TruLaunch makes it that much easier to get UAV's up in the air and operational for our customers in varied industries including agriculture, land management, energy and construction," noted CIRCOR Aerospace & Defense President Vincent Sandoval.
TruLaunch is the first in a series of planned launchers in development at CIRCOR Aerospace & Defense. The series will eventually include multiple launch applications and culminate in the delivery of a custom defense application in the near future.