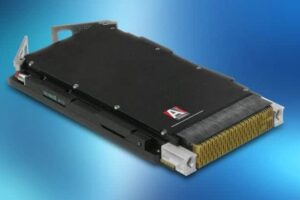 Aitech Defense Systems, a provider of rugged embedded computing products, has announced its newest single-board computer (SBC), the rugged 3U VPX-based C912. The new board combines NXP's latest generation T4 series of QorIQ SoC multicore e6500 processors with AltiVec along with extensive on-board I/O features.
Available with four or eight PowerPC cores, the C912 gives system designers flexibility to implement the optimum high-performance SBC for specific application needs. Each e6500 core supports two hardware threads that appear to the application software as virtual CPUs and features a dedicated AltiVec vector execution accelerator allowing up to 16 complex math operations per clock cycle per core.
For improved security and data assurance, the C912 also includes the latest QorIQ Secure Boot and Trust Architecture 2.0 with one-time programmable crypto key storage protection and external tamper detection.
Find suppliers of Embedded Computing products >
Enhanced processing capabilities and low power consumption make the new board ideal for data-intensive, high computing applications in tough military and defense environments. Uses include HPEC (high performance embedded computing) systems, manned and unmanned mission and flight computers, robotics, vision video and imaging processing.
The C912 provides 4 GB of fast DDR3 SDRAM operating at 1600 MT/s in two banks, each with a dedicated memory controller integrated into the QorIQ processor. The SDRAM is ECC-protected (error correcting code) for high data integrity and a 16 GB SATA Flash II disk eliminates the need for external storage media.
The board's large memory resources also include 128 MB of NOR Flash, with 64 MB allocated to Boot Flash that protects the boot function of Aitech's proprietary firmware and a full 64 MB available for user requirements such as application storage, data logging and file system mounting.
An MRAM device provides 512 kB of non-volatile NVRAM for application specific parameter storage and logging purposes. MRAM technology enables unlimited writes, fast access and long term data retention while the board is powered down.
The VPX fabric options provide eight PCIe lanes or two 10-Gigabit Ethernet ports (XAUI) to the backplane P1 connector.
On-board I/O includes up to four ports of integrated Gb Ethernet, two SATA II and two USB 2.0 ports, four serial UART ports, discrete I/O channels to facilitate the attachment of a diverse set of peripherals such as sensors, communication devices, storage media and user interface devices.
An industry standard XMC slot connected to the QorIQ SoC via an automatically configured, 4-lane (x4) PCIe port extends flexibility by enabling integration of additional processor, memory or I/O elements.
A real-time clock (RTC) automatically switches to an onboard backup power source in the event of a power failure to ensure data storage is kept intact. The QorIQ SoC includes standard watchdog timers (one per thread), and a programmable windowed (avionics) watchdog timer is integrated in the on-board PLD. Each watchdog timer can be individually set to generate a non-maskable interrupt or to reset the SBC.
Other system resources include an elapsed time recorder (ETR), three temperature sensors and hardware and software debug LEDs for diagnostics and debugging.
The C912 is available in air- or conduction-cooled versions per VITA 46 as well as conduction-cooled REDI per VITA 48.2. Its sophisticated mechanical design allows for optimal heat dissipation as well as ensures rigidity and endurance in extreme conditions.
The C912 supports installation and operation of Wind River VxWorks, Linux for PowerPC based on the QorIQ Linux SDK, and Green Hills INTEGRITY operating systems.