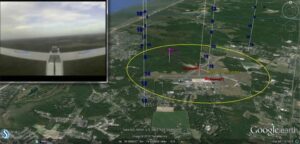 Simulyze, Inc., a provider of operational intelligence (OI) technology and applications, has announced the launch of Mission Insight, its next-generation OI application that provides situational awareness in real-time to unmanned aircraft systems (UAS) management and complex mission planning.
Built on Simulyze's proprietary OI platform, Mission Insight processes and analyzes large streams of data from disparate sources in real-time to provide UAS operators with a common operating picture (COP) in a customized graphical interface. It builds on the success of Simulyze's Flight Control application, which was released in 2000 and was one of the first, comprehensive air, land and sea visualization tools for operators, commanders, mission planners and analysts. Over the last 15 years, Flight Control has been deployed across numerous organizations, including the U.S. military/Department of Defense, the U.S. intelligence community and homeland security.
"As the commercial UAS industry is poised to take flight in the U.S., ensuring the safety of unmanned operations requires integration of vast amounts of disparate data that need to be displayed in a standardized, graphical format," said Kevin Gallagher, president and CEO of Simulyze. "As a packaged, proven COTS application, Mission Insight enables UAS commanders, mission planners and analysts to make better, more strategic decisions in real-time by providing a single, complete operational view of workflow data, from pre-operational planning to post-event analysis."
With the launch of Mission Insight, Simulyze extends its product offerings to commercial, non-military UAS operations. These can include: aerial photography and surveying, agriculture, construction, infrastructure and utilities inspection, emergency management, search and rescue, disaster recovery, and oil and gas exploration.
Mission Insight offers a number of advanced technical benefits, including:
Highly scalable: Can be deployed in a variety of operational environments, ranging from enterprise server systems to a low-bandwidth single user
Low-bandwidth environments: Complex data filtering, advanced processing and timing techniques enable Mission Insight to prioritize data and allow transmission as low as 2400 baud, even in remote areas
Real-time processing: Built on a sophisticated OI platform, Mission Insight processes and presents data in real-time
Analytics: Delivers a range of analytics, from simple calculations like distance and proximity, to complex terrain analysis including line of sight and intervisibility
Command and control: Contains a tool suite designed for the command and control of remote sensors within the common operating COP architecture
Seamless data integration: Integrates data from a wide variety of sources, including sensory data, weather, Global Positioning System (GPS) tracking, social media data, video metadata, radar intelligence (RADINT), Unmanned Aerial Vehicle (UAV) data, databases, imagery, and signals intelligence (SIGINT)
Alerting: Multiple customizable alerting functions including geo-fences, relative movement, position reports, and keywords
Trusted security: Trusted to process, analyze and safeguard data vital to U.S. national security, including data residing on classified networks