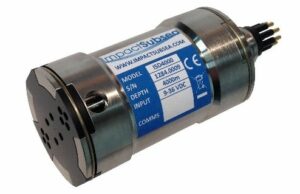 Impact Subsea, a developer of underwater sensing solutions, has announced the launch of the ISD4000 – the company's new survey grade Depth & Temperature sensor with optional integrated HMRU.
The ISD4000 features 0.01% Full Scale Depth measurement accuracy combined with a temperature measurement accuracy of 0.01°C. The sensor can also be supplied with an integrated HMRU, which provides the user with Heading, Pitch and Roll values.
Designed to be a ideal sensor for ROV & AUV underwater applications, the ISD4000 offers a significant degree of capability in a small form factor. At 8cm (3.1") long, 4.5cm (1.8") wide and weighing 0.5kg (1.10lb) in air, the ISD4000 is a highly compact unit. This form factor is ideal for applications where space and weight are critical considerations. The unit uses under 40mA of power at 24VDC, making it ideal for AUV or battery powered applications. It is housed in a robust titanium housing built to withstand the harshest of underwater environments.
The ISD4000 complements Impact Subsea's ISA500 sensor. Combined, the pair provide the user with Altitude, Depth, Temperature, Heading, Pitch & Roll. All values can be displayed in a single easy to use software interface or output to a third party system.
Ben Grant, Managing Director of Impact Subsea, commented: "With the ISD4000 we have created a very capable Depth & Temperature sensor, which complements the capabilities offered by the Impact Subsea ISA500. Providing Depth, Temperature and with an integrated HMRU, the ISD4000 is one of the most powerful and most compact underwater sensors available today."