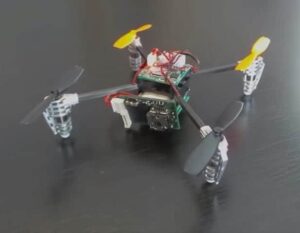 TeAx Technology, a developer of specialized payloads for unmanned aerial vehicles (UAVs), has announced that it has developed what the company claims is the world's smallest commercial LWIR drone thermal imaging solution.
"When offering clients with reliable thermal imaging technology for drones as one part of our business, we typically provided them with solutions from the market leader Flir – especially since Flir came up with the Vue and VuePro," Stefan Thamke, one of the CEOs of TeAx Technology, says. "However, being one of Europe's leading edge drone system integrators, we couldn't resist the challenge to create an even smaller solution," Thamke continued.
TeAx's solution, ThermalCapture MiniAV, weighs 5g (0.01lb) and is a fully operational thermal camera providing analog video. The color video output is in PAL or NTSC. With an available framerate of 9Hz, a resolution of either 160×120 pixels or alternatively 80×60 pixels can be provided. To ensure optimal image quality, a shutter is also included.
ThermalCapture MiniAV was also designed and developed to fully operate on its own – no additional PC or further embedded systems are needed to operate and use it. Only DC power is required.
To finally deliver the proof of concept, TeAx Technology integrated the ThermalCapture MiniAV into a consumer drone and put it into operation. However ThermalCapture can now be integrated into all drones that can carry a payload of at least 5g.
ThermalCapture MiniAV comes preconfigured to be used out of the box, and for more advanced scenarios predefined color pallets can be adjusted or user-defined ones can be uploaded. Additional housing for the unit can be provided if required.