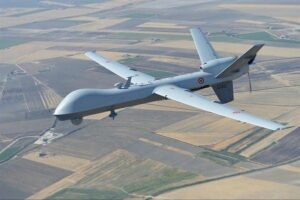 General Atomics Aeronautical Systems, Inc., a manufacturer of unmanned aircraft systems and related solutions, has announced that the Italian Air Force (ItAF) has accepted delivery of two RQ-1 Predator RPA systems, marking final deliveries of GA-ASI's Predator A product line.
"With the delivery of these aircraft, GA-ASI completes over two decades of delivering Predator A capabilities to the United States and allied countries," said Frank W. Pace, president, Aircraft Systems, GA-ASI. "Amassing over 2.1 million cumulative flight hours and featuring the highest Mission Capable Rate of any aircraft in the Air Force's inventory, Predators will continue to keep warfighters safe by equipping them with unparalleled situational awareness for many years to come."
The Italian Air Force is a leader in the utilization of Predator and MQ-9 RPA to support a wide range of Intelligence, Surveillance, and Reconnaissance (ISR) missions in Italy, over the Mediterranean, and in support of NATO operations. Italy is the first country in Europe to have achieved an RPA airworthiness certification. GA-ASI has been supplying the ItAF with these critical assets for more than a decade.