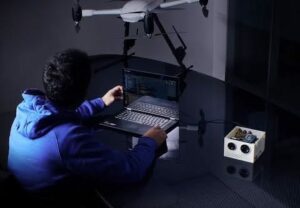 Aerialtronics, a manufacturer of unmanned aircraft systems (UAS), has announced that it is developing a smart dual camera that combines onboard processing power with both digital daylight and thermal camera sensors.
Using an NVIDIA embedded SOC platform, the project, led by Michele Moscaritolo, Head of Vision at Aerialtronics, is a giant step forward in onboard data analysis and processing with drones. The prototype can process both raw data streams from the day-night camera, allowing the Altura Zenith UAS to be used more effectively in a multitude of onboard computing tasks from object detection and recognition to path planning for security tasks, tower inspection and 3D mapping in mining.
Jan Wouter Kruyt, Head of R&D at Aerialtronics, said: "We have been developing dual cameras that allow users to switch between daylight and thermal video streams for some time. Now we have put these data streams into the NVIDIA chip and it means users can do some very smart things with it."
NVIDIA, one of the biggest names in the development of chip technology, have delivered embedded modules in the Tegra family which will lead to a new generation of smart, learning devices.
Kruyt said: "The great thing about working with this open chip is that we can inject any algorithm we like and, more importantly, so can the user."
"We have already gone a step further by integrating a daylight and digital thermal camera with NVIDIA's Tegra K1 chip. No one else offers this powerful data combination. This means the user can analyse both data streams and use the information. Right now it allows users to do smart things with the images. Eventually, we will be connecting this to the flight computer and then the whole drone will become smart enough to respond to what it is seeing."
"The Altura Zenith will use the video streams and information it observes to adjust its flight plan. For example it can fly over a parking lot, find the cars that still have the hottest engines and scan their number plates for payment or security. The video stream can recognise faces, identify and measure the speed of vehicles or locate leaks in oil and gas pipelines."
The technology has great potential for the drone market. Aerialtronics customers already use aerial data from UAS to inspect mobile communication towers, electric pylons, bridges and oilfield pipelines. With this camera, the Zenith is able to recognise the detailed shape, type and materials used in these structures, oil rigs, wind turbines and other buildings while enhancing details for 2D and 3D mapping.
"This is a major step forward in the level of autonomy for drones," Kruyt said. "Now you can pre-programme a drone and it will fly on a path you set for it. But if you integrate machine vision on an embedded chipset, you create something more intelligent because it can identify what is around it."
"If you drive up to a utility pole, mobile phone tower or a house all you do is press a button. The Altura Zenith will go out with the camera, see what it needs to inspect, perform a routine inspection and even design its own mission based on what it sees. It verifies if it has completed its mission before returning to base."
Robin van de Putte, Chief of Product Strategy at Aerialtronics, said: "This is going to be a game changer. Smart payloads will be the next emphasis within the drone industry."