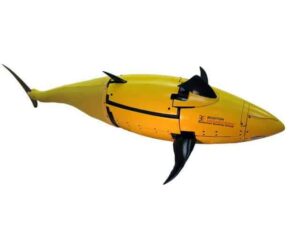 Boston Engineering, an engineering consultancy firm, has announced that it has been awarded a $500,000 START Stage III grant from venture capital firm MassVentures to accelerate the commercialization of its BIOSwimmer unmanned underwater vehicle (UUV) and related autonomous technology. START is a $3 million annual state initiative administered by MassVentures to help growing Massachusetts-based companies commercialize technologies developed under Small Business Innovation Research (SBIR) and Small Business Technology Transfer (STTR) contracts.
"MassVentures has been a trusted partner throughout the development of our game-changing underwater robotics, and we appreciate the continued support," said Mark Smithers, co-founder and chief technology officer of Boston Engineering. "The START program reflects the commonwealth's commitment to fostering new opportunities for businesses and its skilled workforce."
The BIOSwimmer is a biologically-inspired Unmanned Underwater Vehicle (UUV) that replicates the dynamics of a biological fish to move rapidly and accurately – and to operate in areas inaccessible by other vehicles. The highly maneuverable UUV performs operations that include inspecting ships, securing ports, and conducting infrastructure searches more rapidly, more accurately, and in more challenging areas than other underwater solutions.
"Our vehicle solutions are addressing the need to keep people working in maritime environments out of harm's way and to enhance underwater security, research, maintenance, and other applications," said Michael Rufo, director of Boston Engineering's Advanced Systems Group. "The START grant provides us with a unique opportunity to bring our UUV technology forward into homeland security, oil & gas, and other significant markets."