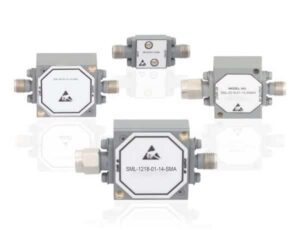 Fairview Microwave Inc., a supplier of microwave and radio frequency (RF) components, has announced the release of a new family of broadband, high power limiters that aid in protecting sensitive RF receivers and components such as low-noise amplifiers (LNAs) that are in close proximity to high power signals.
The new high power limiters from Fairview Microwave operate over broad frequencies, ranging from 0.5 GHz to 40 GHz depending on the model. This family of products contains seven limiter designs featuring limiting thresholds between 3 to 10 dBm and low leakage power of 10 to 15 dBm. The selection of limiters exhibits high CW power – handling up to 200 Watts peak power – and fast recovery times of 10 to 100 nanoseconds.
Fairview's limiters are constructed with high-rel, ruggedized packages that are designed to meet MIL-STD-202 environmental conditions for humidity, shock, vibration, altitude and temperature cycle. These components are also guaranteed to operate over temperature ranges from -54° C to +85° C. The 50 Ohm hybrid designs utilize limiting diode circuitry and do not require any external matching components.
"Our new portfolio of high power RF limiters provides designers and engineers the components needed to protect their sensitive RF receiver components from high power signals that could result in irreparable damage to the system," says Brian McCutcheon, Vice President and General Manager at Fairview Microwave. "These high power limiters offer industry-leading performance and are well suited for applications such as electronic warfare, instrumentation, fiber optic communication systems, radar, SATCOM, point-to-point radio, telecom and R&D."
Find suppliers of electronic components for unmanned systems >