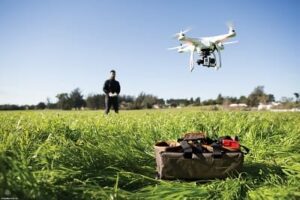 Lowepro, a manufacturer of photography carrying solutions, has announced the DroneGuard Kit™, its new quadcopter drone storage system. Combining organization, portability, customization and protection into a singular flexible and modular design, Lowepro's DroneGuard Kit provides a tighter, more customizable fit than many other quadcopter drone storage solutions.
"The Consumer Electronics Association predicts that the global drone market will reach at least $1 billion by 2018, yet there still remains an unfulfilled need for protective carrying solutions for this valuable equipment," said Tim Grimmer, vice president of brand and product at Lowepro. "We developed the DroneGuard Kit to give photographers a highly organized, customizable and transportable solution, offering trusted security that only Lowepro products can provide."
Created to complement the X-shape of many popular drones, such as the DJI Phantom 1™, the DJI Phantom 2™, the DJI Phantom 3™ and other similarly sized quadcopters, the DroneGuard Kit is a system of lightweight dividers and pockets to easily store and carry all parts of a complete kit. An ultra-portable tray with grab handles, built with a rigid, durable base and honeycomb interior, provides a foundation for the kit and doubles as a work surface, while retention straps offer security. Modular components include a battery box with adjustable dividers, drone sidewalls with slash pockets and a remote/transmitter divider, trusted to keep all equipment safe, organized and within easy reach when storing, transporting or on location. An elastic loop system enables organization of blades, cords, tools and more. Zippered side pockets serve as additional storage for essentials such as manuals, cables and extra cameras, while providing overall support and protection.
The DroneGuard Kit can be purchased as a standalone item or in a bundle with a hard case, the Hardside 400 Drone.