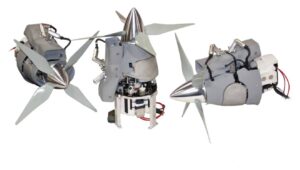 NWUAV, a manufacturer of UAV propulsion systems, has announced that it has prepared the initial shipment of its NW-44 Fuel Injected engine for an undisclosed foreign customer. This is the first of three customers that have signed up for the COTS 44cc Multi-fuel engine, which has been in development for three years.
The NW-44 is the first commercially available propulsion system designed from the ground up specifically for UAV applications. The dual ignition engine and associated components are all self-contained in a common assembly that includes the ECU, Ignition Modules, a 310 watt generator, its associated Control Unit, and the Engine Vibration Isolation mount.
The shipment includes several engines and associated fuel tanks that have an integrated fuel pump and pressure regulator along with a separate Power Management Module. The PMM contains the Li-Po battery charging circuit and logic functions that manage air, ground, and battery power distribution. The PMM, ECU and GCU all have CAN bus communication to the Autopilot that can relay real time data to the operators.
Chris Harris, owner and president of NWUAV, said: "To design, build, and test an engine system like the NW-44 takes significant commitment and capital, along with engineering resources and specialized test facilities that most companies don't have or are unwilling to commit to. Those challenges drive most companies to settling on Hobby Grade engines and components that will likely not perform well for the program. The NW-44 addresses those challenges with a turn-key commercially available engine system specifically designed and built for the unmanned industry."
The NW-44 has been through thousands of hours of endurance testing at the NWUAV headquarters in McMinnville, Oregon, and is targeted for UAVs in the 50–80 lbs. range.