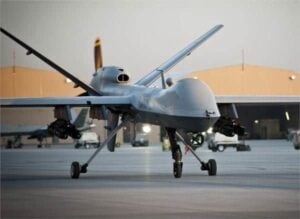 General Atomics Aeronautical Systems, Inc. and SENER, a leading Spanish engineering company, have announced that they have signed a teaming agreement that promotes the use of the multi-mission Predator B® Remotely Piloted Aircraft (RPA) to support Spain's airborne surveillance and reconnaissance requirements.
"GA-ASI is proud to be teamed in Spain with SENER. They are a leading high-technology company with a long record of success in the defense and security sectors," said Frank W. Pace, president, Aircraft Systems, GA-ASI. "GA-ASI is fully committed to working with Spanish industry as we believe this program's success requires local industry partnerships that provide collaborative innovation in enhancing the capabilities of Predator B for the Spanish Government."
The joint partnership of GA-ASI and SENER offers a wealth of combined expertise in support of the Predator B program for Spain. Operationally proven with over one million flight hours, GA-ASI's Predator B provides unmatched persistent situational awareness, safeguarding borders and maritime approaches, supporting military missions worldwide, and saving lives in areas that have been afflicted by natural disasters. Complementing this capability, SENER will leverage its proven engineering experience to optimize and synergize Predator B data collection in support of the customer. The team will create high-technology jobs in the rapidly growing field of RPA for the people of Spain.
Andrés Sendagorta, vice president of SENER, expressed: "It is an honor for SENER to partner with General Atomics Aeronautical Systems to support the Predator B supply to the Spanish Government. At the same time, it is a source of satisfaction to make available for the Spanish Ministry of Defense our experience and technological capabilities in this challenging project to implement the first system of this kind that will be operating in Spain."