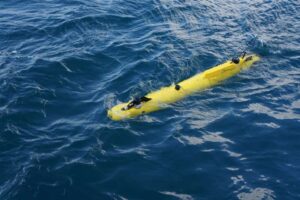 The ECA Group, a developer of robotics and automated systems solutions, has announced that it has made the first sale, worth several million euros, of its next-generation A18 autonomous underwater robot.
After several successful orders of its A9 range of robots in the past few years, this export sale is a first for the ECA Group's latest autonomous underwater vehicle (AUV). The sale was made shortly after the vehicle was marketed, and was completed before the end of the development stage.
The new A18 range comprises robots of 350kg to 650kg that can operate at depths of up to 3,000 meters, and can be deployed from a light naval platform from 12m, using different launching and retrieval systems also offered by ECA. They represent ECA Group's new mid-range AUVs.
The A18D model is able to travel underwater for more than 24 hours, and is equipped with next-generation sensors and software technology. The robot has excellent operational capacity for hydrographic surveys, oceanographic research, exploitation of the natural resources of the seabed, and even search and rescue operations.
The sale confirms customers' growing interest in long-range AUVs that are more compact due to the miniaturization of sensors and embedded equipment.