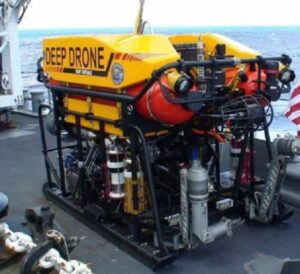 Phoenix International Holdings, Inc. has completed an upgrade of the U.S. Navy's 8,000-foot depth capable remotely operated vehicle (ROV) Deep Drone. All work was performed under a multi-year contract with the U.S. Navy's Office of Supervisor of Salvage and Diving (SUPSALV). The upgrade included installing a new umbilical, sonar, high definition camera, LED lighting system, an updated frame, and a new foam pack. In addition, and at the heart of the upgrade, Phoenix installed a completely new Programmable Logic Controller (PLC) based vehicle control system.
This new PLC based control system was designed to increase the vehicle's bandwidth to accommodate advanced sensors and provide intuitive, accessible functionality to allow ROV technicians to address common software related challenges (e.g., installing and integrating new sensors to address specific operational requirements). To support the greater demand for bandwidth, the overall system design also included fiber optics throughout the vehicle and within the vehicle's new umbilical. Additional advantages of the PLC based control system design include improved maintainability and reliability due to commercial off-the-shelf (COTS) components and software that are readily available and supported worldwide. Incorporated into the PLC based control system was an extensive graphical user interface (GUI) for both control and diagnostics with GUI screens. In designing the GUI, the effort focused on supporting rapid customization, including information displayed, items controlled, and layout of each GUI page. With the design in place, Phoenix engineers and technicians commenced a step-by-step process to replace Deep Drone's legacy control system with a PLC based control system.
Work started with the development of the basic control system using simulated digital inputs and outputs. Phoenix personnel then assembled and tested the complete system, including the vehicle control station, ROV housed PLCs, and maintenance van, within a laboratory environment. This approach had the added benefit of keeping Deep Drone fully operational during the control system development process. Once fully tested in the laboratory environment, the system was tested with the vehicle operating in Phoenix's above ground vehicle test tank. A final series of open ocean system tests were conducted aboard USNS Grasp (T-ARS-51) near Andros Island, Bahamas. During these tests, Phoenix personnel fully exercised the vehicle and its new control system. Following these successful tests, the upgrade was complete and Deep Drone was placed back into a mission-ready status.