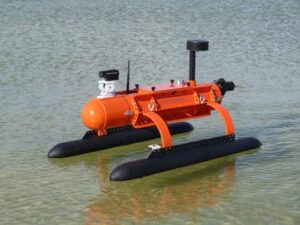 Unmanned Surface Vehicle (USV) manufacturer NjordWorks, who debuted the Pioneer USV in February this year, has formed a technical partnership with SPH Engineering, a developer of universal mission control software.
SPH Engineering's Universal Ground Control Software (UGCS) allows for operation of multiple unmanned vehicles of different types on a single mission.
The aim of cooperation is to further improve versatility of unmanned vehicles produced by NjordWorks and give its vehicles more autonomy. These capabilities will reduce training requirements and complexity of operation of unmanned surface vehicle systems. UGCS will not only provide ease of operation and reliable mission planning and execution abilities to NjordWorks vehicles; it will add an option to use them in combination with aerial or ground vehicles together on a single mission.
NjordWorks USVs will effectively and safely address such tasks as water quality testing, oil and fuel spill cleanup, hydrographic survey, lake and pond maintenance, conservation, search and rescue and infrastructure inspection.
"A flexible and easy to integrate control station is one the key components for our autonomous unmanned boat program as well as our entry into other domains," explained Larry Friese cofounder and President of NjordWorks. "We are very pleased to be moving forward with high caliber company like SPH Engineering."