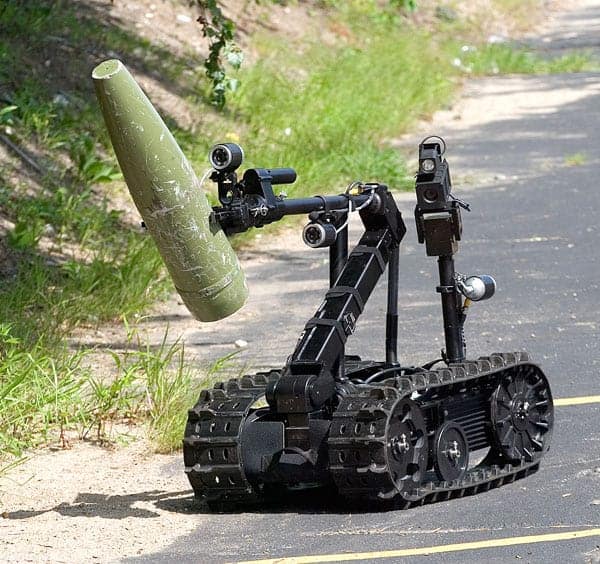 QinetiQ North America's TALON® robot is now actively deployed in 30 countries globally. Since its introduction more than a decade ago, the TALON family of robots has earned a worldwide reputation for durability, flexibility, modularity and performance. TALON is in its fourth generation of upgrades, maintaining ever-advancing capabilities for military forces, fire departments, police bomb squads, combat engineers and an expanding portfolio of customers.
TALON is the most widely used medium-sized robot in the world. The 30 countries where the robot is currently deployed include the United States, Canada, Japan and many other allied countries in Europe, Asia, South America and Africa. Most recently, QNA received a new contract to ship additional TALON robots to the Iraqi Army. Additionally, TALON use is expanding in Central Europe with deployments in both the Czech Republic and Poland, amongst other countries. The world-renowned TALON is primarily used for remote reconnaissance, improvised explosive device (IED) detection and explosive ordnance disposal (EOD) mission support by military forces.
TALONs are tough robots and in Iraq alone, were blown up an average of 13 times by enemy bombs and repaired in robot hospitals to return to the fight and defeat over 30,000 IEDs. TALONs conduct hazardous tasks while keeping military and law enforcement personnel, property assets, and civilians out of harm's way.
"Warfighters, first responders and civilians are constantly put into harm's way," said J.D. Crouch, Chief Executive Officer, QinetiQ North America. "With TALON's robust design, multiple configurations and accessories, our medium robot has become a world-class lifesaver, and we are proud to provide its capabilities to countries around the globe."
From the rugged TALON and Dragon Runner™ robots to the Spartacus™ and Raider™ unmanned vehicles, QNA offers a full range of durable, reliable and flexible unmanned systems weighing from 10 to 12,500 pounds. QNA's family of robots includes small, medium and large unmanned vehicles that can be configured for specific tasks such as IED detection, CBRNE/hazmat detection and identification, reconnaissance, combat engineering and SWAT/MP unit assistance. Whether the mission is supporting a bomb squad, protecting life and property in an urban environment or helping a dismounted warfighter assess threats, QNA's robots deliver.