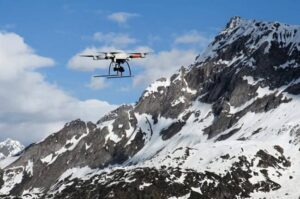 As reported earlier this year, this summer the microdrones md4-1000 achieved something no other quadcopter had previously done. The unmanned aerial system, which was equipped with the latest GPS technology from u-blox and an HD camera from Sony, conquered the Alps by crossing the Saint-Gotthard Pass connecting Switzerland and Italy. The md4-1000 ascended and descended along a pre-programmed path over the mountain range while encountering strong winds and avoiding web-like power cables.
Microdrones has now compiled full footage of the flight, with a 'making of' video and uncut onboard flight footage. Both videos can be viewed below.
Mercedes-Benz, a premium sponsor of microdrones GmbH, and technology sponsors u-blox, Zeiss, SFC Energy and Sony took part in the venture.
Full Flight Specs:
Total length of flight: 12.223 meters
Total flying time: 22 min,26 sec
Maximum altitude: 2.174 meters
Overall traveled vertical height: 1.587 meters
Altitude of takeoff zone: 1.453 meters
Altitude of landing zone: 1.307 meters
Vertical height traveled from takeoff zone: 720 meters
the Making of:
Onboard Video – Uncut: