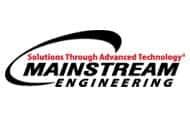 Mainstream Engineering Corporation, a 27-year-old Brevard County research and manufacturing company, has been awarded a contract from the U.S. Air Force to develop a hybrid electric propulsion system to support a rapid-response small unmanned aerial vehicle (UAV).
The military use UAVs to carry out various types of missions, including reconnaissance, surveillance, target acquisition, communications bridge, electronic warfare, and bomb damage assessment. These UAVs use combustion engines for propulsion and often carry a payload specific to their mission. Because the propulsion systems must be sized for take-off power, the systems are oversized and less efficient for part-load cruise conditions.
Mainstream Engineering Corporation has developed a unique serial hybrid drive propulsion system that will provide improved aircraft stability during takeoff, increased flight duration, and a reduced aircraft noise signature for silent operational modes. Additional advantages of Mainstream's approach include improved reliability and simplicity as well as simplified field maintainability.