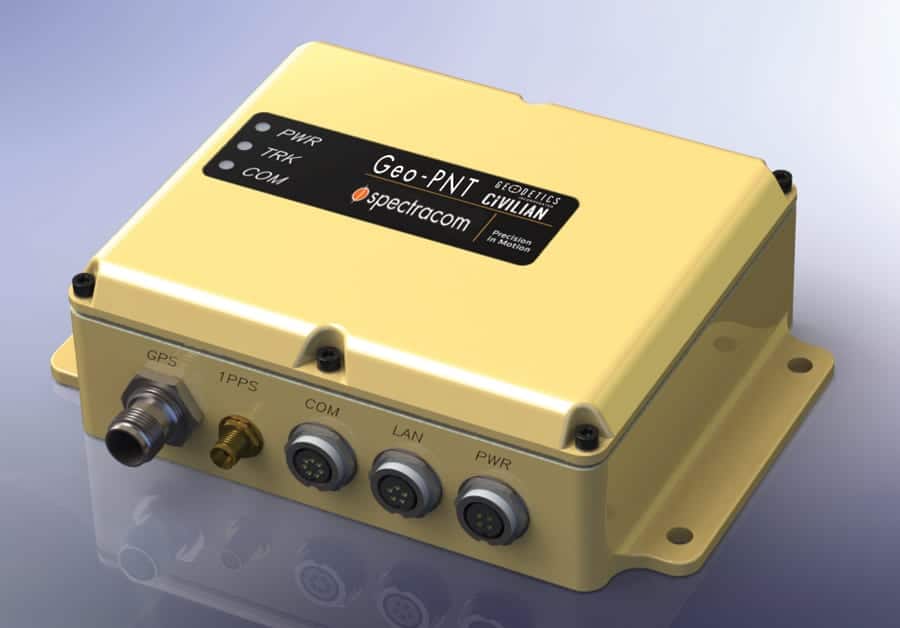 Spectracom, a business of the Orolia Group and a leading provider of GNSS signal management solutions, announced today a strategic partnership with Geodetics Incorporated of San Diego, California. The partnership includes a variety of initiatives to enhance each other's customer reach, channels, products and technology.
The partnership includes a distribution agreement for Geodetics' Geo-iNAV™ inertial navigation products. Spectracom will offer Geo-iNAV alongside their portfolio of precision timing, test and simulation equipment. Geo-iNAV is an affordable, fully integrated GPS-aided inertial navigation system that provides real-time, high-precision positioning and navigation solutions for manned and unmanned air, sea and ground vehicles. It combines GPS and sensor fusion to achieve cm-level real-time positioning and navigation for dynamic platforms.
Spectracom President and CEO, Lisa Withers said, "In line with our long heritage in delivering robust precision time and frequency products and services, we understand the challenges our customers face to adopt and adapt new and often disparate GPS and GNSS technologies. We believe our partnership with Geodetics will help to simplify the integration of complex positioning, navigation and timing technologies and provide our customers with a broad range of GPS and inertial navigation platforms readily suited for today's dynamic and mobile environments".
Geodetics President and CEO, Dr. Lydia Bock adds, "Spectracom's global reach immediately widens the playing field for our inertial navigation products and technology. They have a keen sense of customer's needs for the convergence of PNT (Position, Navigation and Timing) in both military and commercial applications."
As the GNSS eco-system expands to support mission critical applications, so must the prevalence of interoperability and signal fidelity, and ultimately PNT applications must be able to withstand the temporary loss of GPS due to factors such as signal obscuration. As such, contemporary GNSS signal management solutions must be resilient to various GPS impairments as required of the application. Geo-iNAV delivers this capability through six configurations. It is available in commercial as well as SAASM GPS configurations as well as a choice of IMU depending on accuracy requirements. It offers a low SWaP (size, weight and power) profile for autonomous vehicles and payloads on manned vehicles to meet a wide range of applications.
As a part of Spectracom's broader initiative to provide a comprehensive portfolio of GNSS signal management products, systems and services, the Geo-iNAV is the first in a series of compact and rugged solutions specific to PNT applications. In addition to simplifying complexity for its customers with contemporary, modular platforms, Spectracom's market reach, together with the technical strengths of their partners such as Geodetics will accelerate time to market and aggregate the resources necessary to support unique and changing needs for precision references, simulation and signal test and analysis.