Webinar Details
Hosted by RIMA
November 23, 2021, 13:00 (UTC)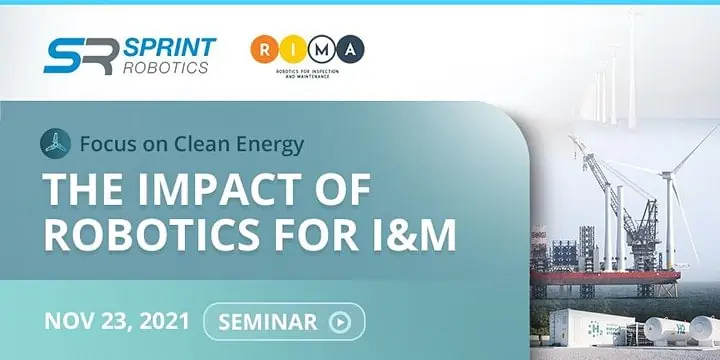 Exploring synergies and best practices between on- and offshore wind, solar and hydrogen industries, looking at the role of I&M robotics
The race is on to achieve net-zero emissions by 2050.
Clean energy is gathering speed and industries are rapidly shifting their focus to new markets.
Robotics for I&M are poised to play a significant role in the transition to clean energy. On- and offshore wind energy are undergoing a period of explosive growth; solar is one of the fastest-growing renewable power sources. Wind and solar farms present significant opportunities for use I&M robotics, helping to improve efficiency, reduce costs, and increase safety and productivity.
Continuing the success of the seminar in May, SPRINT Robotics and RIMA Network will co-host the next version of "Focus on Clean Energy: The Impact of Robotics for I&M". The seminar explores the role I&M robotics can play in reducing carbon emissions and contributing to a clean energy future.
This seminar is free of charge.
---
Program
14:00 Welcome & Introduction
14:10 Offshore Wind Robotic Use Cases – Dan Sumner, ORE Catapult & David Wavell, ORCA hub
14:30 Before lightning strikes: Deploying a Voliro flying robotic solution to inspect wind turbine blade LPS – Chris Udell, Voliro
14:45 Automating remote inspections of submerged assets with underwater drones – Igor Martin, Hydromea
15:00 ANYbotics – Autonomous Robots for Industrial Inspections – Luca Niccolini, Anybotics
15:15 Fully Autonomous Inspections of Offshore Wind Farms with Forssea Robotics' Argos ROV – Rodrigo Castro, FORSSEA Robotics
15:30 DIGISUB – Subsea Digitalization – Felipe Laydner de Melo Rosa, SENAI CIMATEC
15:45 SBID Project – Ralph Krook, Shore Systems
15:55 SPARC I&M Project – Andreas Kokkas, SolarCleano
16:05 BladeBUG Project – Chris Cieslak, BladeBUG
SPRINT Robotics
The SPRINT Robotics Collaborative is a global, industry-driven initiative that promotes the development, availability and application of robotics techniques in technical inspections, maintenance and operation of capital-intensive infrastructure. The collaborative aims to achieve field use of I&M robotics of capital-intensive infrastructure assets on a large scale to address immediate needs and long-term industry priorities. In moving towards this goal, one major focus of SPRINT Robotics is to engage and bring together the whole value chain, from end users to service and technology providers.
Founded in 2015, SPRINT Robotics has become an internationally recognized platform for I&M robotics with a support base of nearly 100 organizations globally.
https://www.sprintrobotics.org/
RIMA
RIMA is a 4-year project, funded by European Horizon2020 program, facilitating the innovation of robotics in I&M in Europe. RIMA connects and inspires key stakeholders in I&M robotics and aims to accelerate innovation and uptake of robotics between these stakeholders with the support of Digital Innovation Hubs. RIMA focuses on six industries: water, nuclear, energy, oil&gas and chemical, transport routes and buildings, transport, cargo and mobility.