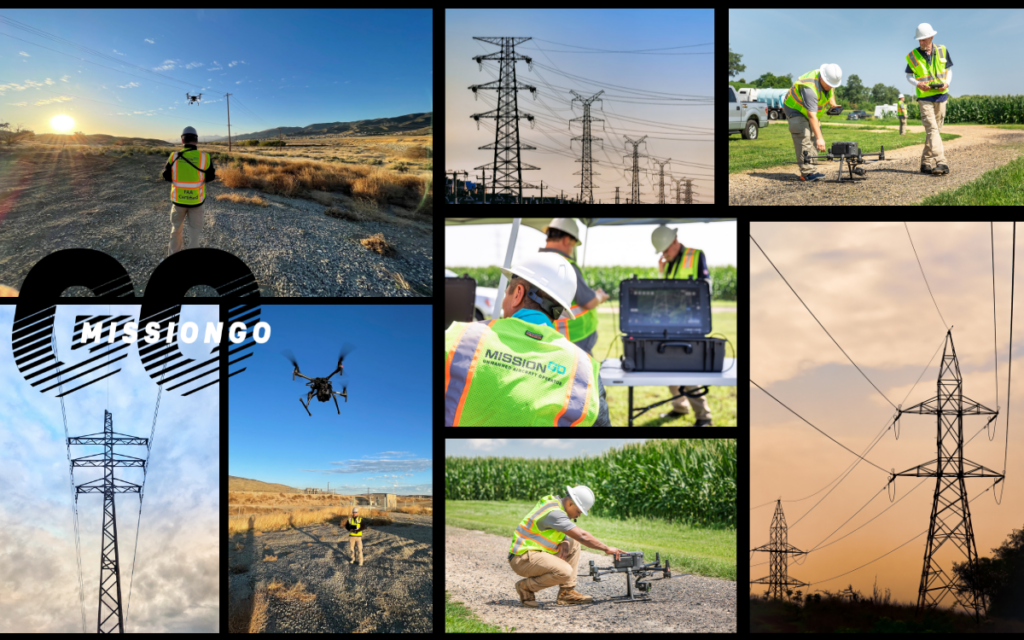 MissionGO outlines the benefits of utilizing uncrewed aircraft services for faster, more cost-efficient, and safer transmission and distribution pole inspections.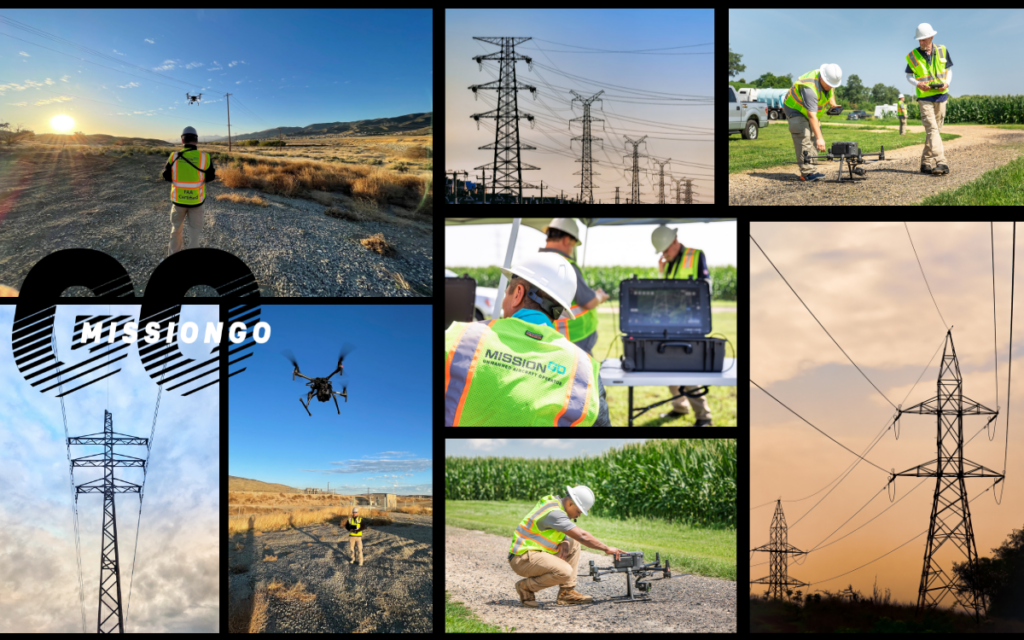 With an aging grid that is servicing nearly 340 million citizens, transmission and distribution pole inspections are critical in keeping America connected and safe. Manual inspections require someone to travel to each individual pole, perform a series of assessments to determine if the pole is safe to climb for inspection, physically climb the pole, gather data and images, climb back down, catalog any issues, then move to the next pole… rinse and repeat. Not only does this risk life and limb of your teams, but also if incredibly inefficient, time-consuming, and costly.
An alternative to this laborious process is inspections using uncrewed aircraft services – also known as UAS or drones. Using UAS for utility pole inspections has a proven track record of identifying and triaging issues or concerns faster and safer than manual inspections. In a direct comparison of nearly 100 poles, one company discovered UAS inspections found 48% more conditions than the ground team[i] as well as 4 high-priority issues that were only identified via drone. Another company found drone inspections reduced inspection time for overhead lines from 2 years to just a few weeks[ii].
If the time and efficiency savings alone are not enough, then consider the safety and cost value.
"The wildfires MissionGO has prevented due to our UAS inspections could have wreaked havoc on hundreds of families and homes in California," says Joe Piazza, Director of Infrastructure Inspections at MissionGO. "When considering the damage costs and potential lawsuits from injured persons, the value of proactive drone inspections look like a pretty good investment."
State by state, the inspection cycles differ. However, proactive states require inspections of critical infrastructure assets every 1, 3, and 5 years. These operations usually require a team either walking, driving, or flying to complete the inspection. In rural parts of the country, walking and driving might be impossible, leaving only the airborne option. However, helicopters are incredibly invasive to the ecological system and disruptive to communities, not to mention pricey and unaffordable for smaller utility companies.
So that leaves drones. The best fit aircraft cost around $30k-$45k, but there are less expensive options to consider as well. Outfitting a team to maximize the efficiencies that drones offer is one option, and you will need to bring in experts to build up a crew that is going to bring in immediate returns. Finally, any utility company looking to build out a drone program will need to also consider a fleet management service for repairs and flight time tracking as well as the insurance to cover the cost of these aircraft. Another option is to hire a 3rd party contractor to complete the work. Across the country, there are various companies offering UAS inspections – including MissionGO. When considering where to start with any UAS inspections, the top three things to consider are:
Experience and reliability of the UAS team – Experience and reliability are straight forward – the team needs to be familiar with the aircraft being used and with the work being done if you want to ensure the highest level of accuracy and efficiency.
Equipment needs and sourcing – Equipment needs and sourcing should also be considered when looking at long-term contracts. Your partner should be equipped with a variety of aircraft to be able to tackle the different jobs from small, detailed work to larger overhead line work.
Training and regulation updates – Regulation around drone usage is still being finalized and the standard for current operations is within line of sight. However, the right partner will not only be able to guide your company through the process of staying compliant and obtaining waivers but might also help build up your program for beyond visual line of sight (BVLOS) operations – exponentially multiplying your efficiency and investment.
MissionGO is proud to offer UAS transmission and distribution pole inspections and consulting with the highest level of training and reliability on the market. Our experienced team has decades of combined experience with crewed and uncrewed aircraft and is trained regularly to meet the latest quality and customer service standards as well as be compliant and familiar with the most current regulations.
MissionGO offers both aerial inspections as well as ground inspections and services include a certified Overhead Line Inspector to identify GO 95, 128, and 165 issues. The combination of aerial perspective with ground inspections boosts problem identification and increases the chance of locating and triaging potential issues faster than ever before. We are currently available in the continental United States and servicing one of the largest UAS inspection contracts in the world in Southern California.
[i] constellationclearsight.com/case-studies/aerial-vs-ground-comparison/
[ii] tdworld.com/transmission-reliability/article/20972687/preformed-line-products-drone-inspection-pinpoints-issues-on-overhead-line