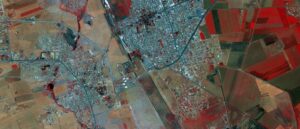 Textron Systems' RemoteView™ thick-client imagery exploitation product is specially built to resolve problems across myriad diverse verticals, and aims to provide an experience that is unparalleled in the industry. 
In this article, the company discusses the RemoteView desktop platform, which includes tools for interacting with and visualizing geospatial video and imagery, and allows users to rapidly search, discover, exploit and analyze with a complex variety of data. Read more >>
Textron outlines its product as:
An image-focused platform that enables analysts to perform their tasks quickly and intuitively

A data-agnostic platform that allows users to load any imagery, vector or video file to create a holistic view of their Area of Interest

A production-centric platform capable of outputting massive amounts of detailed reports within a short timeline

A cutting-edge platform that is constantly developing the latest technology to allow users to keep up with satellites as they come online
The company's article goes on to chronicle the applications of RemoteView:
Analysis and Manipulation: Daily intuitive workflows to generate crucial reports
Multi-Image Analysis: Combine 2 or more images to develop insights into changes over time
Multispectral/Hyperspectral Analysis: See what cannot be seen by the human eye
Synthetic Aperture Radar (SAR) Analysis: Determine activity through cloud coverage and foliage
Elevation and 3D-focused Analysis: Understand terrain, its implications, and project it into 3D space
Motion Imagery Analysis: View and report on activities as they happen
To learn more about how Textron's RemoteView thick-client imagery exploitation product and other geospatial analysis offerings can be used, view the Textron website.