The ability to gather and use real-time intelligence is critical for situational awareness in military applications. This requires advanced electronic systems that perform flawlessly for days, weeks, or months, often operating in extreme conditions on land, at sea, or in the air.
Atrenne, a Celestica company, designs and manufactures ruggedized electromechanical solutions that meet the unique requirements of military environments. In this article, it discusses how it helps customers achieve their C4ISR (Command, Control, Communications, Computers (C4) Intelligence, Surveillance and Reconnaissance) goals.
Atrenne's high-performance 25 Gbaud Gen- 4/5 Series backplanes are designed to address the continuous growth in digital signal processing for intense data throughput applications, including C4ISR.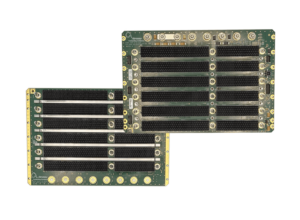 The article covers:
Requirements of Modern Military Systems

Accelerating time-to-market: From development to deployment
Atrenne adheres to the Open Group's Sensor Open SystemsArchitecture (SOSA™) consortium standard for the military's electro-optical/infrared, signals intelligence, electronic warfare, and communications systems to ensure flawless interoperability among all C4ISR systems. Read the full article here >>
Celestica and Atrenne are helping to bring mission-critical products to market through the design, engineering, manufacture and delivery of reliable, high-performance electronic solutions.