Mission-critical communications specialist Dejero is enabling renowned storm chaser Reed Timmer and his crew, Team Dominator, to push the boundaries of live streaming and scientific data collection from inside tornadoes and hurricanes, with the help of the EnGo 265 video mobile transmitter with built-in GateWay Mode.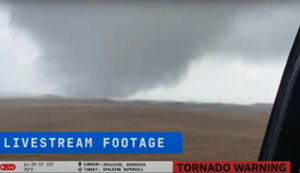 In Spalding, Nebraska, in May, Team Dominator captured a 55 mb pressure deficit with its microbarometer in what is being described as the best tornado intercept in US history. Even with winds between 160 to 170 mph, inside the wedge tornado, Timmer was privy to uninterrupted internet connectivity, upheld by the resilient Dejero EnGo 265 with GateWay Mode.
Dejero critical connectivity is making history with storm chaser Reed Timmer measuring heartbeat of Nebraska tornado – read the full article on Dejero's website
The article covers:
Insights from extreme meteorologist Reed Timmer
"Dejero's reliable connectivity not only helps us to keep people informed about a tornado heading towards their town, it also enhances our brand and credibility as storm chasers."
Dejero Smart Blending Technology – capable of blending multiple wired (broadband/fiber) and wireless (3G/4G/5G, Wi-Fi, satellite) IP connections.
EnGo's GateWay Mode – enables live feeds from vehicle-mounted, handheld and drone cameras to be transmitted from storm locations to the production office located in Austin, Texas.
"The GateWay Mode of this unit has been a dream come true for our live streaming platform inside the Dominator 3 as we are attempting to intercept tornadoes directly for science" – Reed Timmer, extreme meteorologist
Read the full article to find out more about EnGo's GateWay Mode, ultra-reliable, high-bandwidth internet access >>