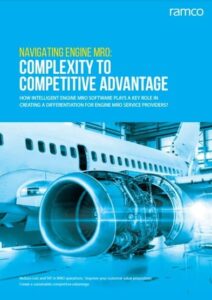 Ramco has released a whitepaper highlighting how intelligent software and IT solutions can help overcome the limitations faced by engine MRO (maintenance, repair and overhaul) service providers. As the usage of commercial UAVs (unmanned aerial vehicles) continues to increase, so too will the requirement for robust repair and maintenance infrastructure, and much of the information relating to manned aviation engines will also apply to the drone industry.
The whitepaper covers:
The current conditions in the MRO industry
Factors that inflate time and costs for engine MRO service providers
Key examples of inefficient processes
How intelligent technology can unlock powerful advantages, such as predictive maintenance, mobile apps and customer portals
A checklist for evaluating MRO IT solution platforms and providers
A case study highlighting the impact of Ramco's Aviation for Engine MRO solution
To find out more about the benefits of integrated MRO software solutions for aviation and engine providers, download the whitepaper here.