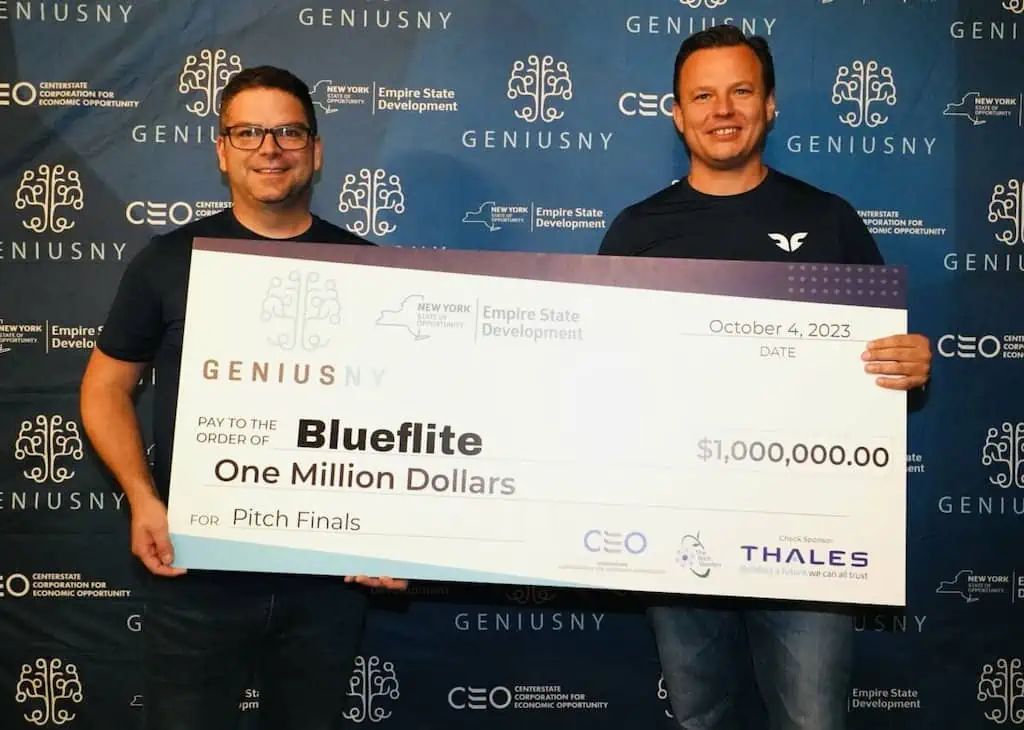 Blueflite has won the $1 million grand prize of round seven of the GENIUS NY accelerator.
Founded in 2018, the company offers a drone-based logistics platform. Its patented, unique, and all-electrical drone design has vertical take-off and landing capabilities, advanced maneuverability, and is built to meet the rigorous demands of commercial operations.
The GENIUS NY program is the world's largest business accelerator program focused on uncrewed aerial systems, robotics and IoT.
The year-long program, which is administered by CenterState CEO's The Tech Garden in Syracuse, awarded five finalist teams a total of $3 million at Pitch Finals at its Innovation Night event in downtown Syracuse, including the $1 million grand prize and four $500,000 investments.
The five finalist teams pitched their businesses to a panel of judges and the audience during the Pitch Finals at Innovation Night. Following the pitches, all five competitors were awarded one of five investments, with Blueflite winning the grand prize.
The other four teams received a prize of $500,000: Aloft, Greenjets, Voltela, and VOTIX, which was also named as fan favorite at tonight's event.
The accelerator also offers incubator space, company resources, programming and mentoring to finalists. Participants are required to operate their business in Central New York for at least one year.
To date, New York State has made $21 million in direct investment in 37 GENIUS NY teams over the program's seven rounds.
Since 2017, GENIUS NY companies have raised more than $100 million in follow-on funding and have created more than 80 new jobs in New York State. The advancement of the GENIUS NY program builds on the progress of CNY Rising, the region's award-winning strategic plan to revitalize communities and grow the economy.
Since 2016, New York State has focused on making major investments in the uncrewed aircraft systems industry, including an initial investment of $35 million to develop a 50-mile, UAS flight traffic management corridor; $30 million for six previous rounds of the GENIUS NY competition; and $16.6 million in ongoing investments for the Tech Garden's expansion in downtown Syracuse to help grow its UAS industry efforts.
Director of GENIUS NY Kara Jones said; "Innovation Night brings industry leaders and the greater community together to celebrate the new technologies being developed right here in Central New York. Investing in GENIUS NY companies brings new ideas and new opportunities for collaboration to the region's startup community. As the teams enter the next phase of the program, they will work to grow their company and advance their technology with the investment made through GENIUS NY and with the help of the team at CenterState CEO's The Tech Garden."
Blueflite Co-Founders Frank Noppel and James McClearen said; "Blueflite is thrilled to have won the prestigious GENIUS NY $1M prize, organized by CenterState CEO. We see this as a remarkable achievement and testament to our capabilities, and we are enthusiastic to begin an exciting journey strengthening our presence in the State of New York. The support from GENIUS NY has been invaluable, and we look forward to drive innovation and excellence in the drone industry, benefiting not only our company but also the communities we serve."